2019-2020 KWPN Stallion Competition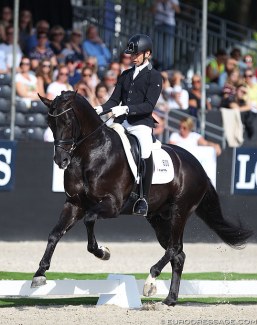 The 4-year old King Karim, the 5-year old Jameson, and the 6-year old Imposantos were the winners of the third leg of 2019-2020 KWPN Stallion Competition, held in Zuidbroek, The Netherlands, on 28 December 2019. 
The KWPN Stallion Competition is an ideal occasion for breeders to assess the quality and potential of young licensed Dutch warmblood stallions. In principle it is mandatory for young KWPN licensed stallions to compete on the circuit, but not all stallion owners do this. KWPN has not yet found a solution to this although it hoped to solve the matter this spring through  a "transparency list" on which is marked which stallions did the competition and which not. 
Three qualifiers were held (Kronenberg, Ermelo, Zuidbroek) and the Finals will take at the 2020 KWPN licensing in Den Bosch on 29 January - 1 February 2020. In Zuidbroek King Karim, Jameson and Imposantos were the winners. The judges were Gert van den Hoorn and Mathie Boomaers.
In the L-level division for 4-year olds, Hans Peter Minderhoud topped the board with Gaston Glock's KWPN stallion King Karim (by Toto Jr  x Painted Black). The pair scored a winning total of 94 points, earning 9 and 9.5 for walk, trot, canter, harmony and general impression. Van Olst's new stable rider Manuel Springhetti steered Kjento (by Negro x Jazz) to a second place with  92 points. The stallion is normally competed by Charlotte Fry, but she was showing in Mechelen that day. Kjento earned 8 for walk and 9.5 for trot, canter, submission and general impression. Minderhoud and Glock's Taminiau (by Toto Jr x Sandro Hit), who won the first two legs, were third in Zuidbroek with 88 points. The stallion was tense and only got 6.5 for submission/harmony. 
In the M-level division Marieke van der Putten and Jameson (by Zack x Negro) beat rivals Renate van Uytert-van Vliet on Johnny Depp (by Bordeaux x Jazz) for the second time in the three qualifiers. Jameson won with 93 points. His walk, which could have covered more ground, scored 8, while trot, canter, harmony and general impression got 9.5. Johnny Depp got 91 points. Van Uytert also rode her second horse, Just Wimphof (by De Niro x Regazzoni) to a third place with 90 points. 
At Z-level Bart Veeze scored a hattrick, his third victory in the three qualifiers on Imposantos (by Wynton x Krack C). The stallion earned 94 points, the same day high score as King Karim. Renate van Uytert and In Style (by Eye Catcher x Lorentin) were the runners-up with 90 points, followed by Jennifer Sekreve on Indigro (by Negro x Jazz) with 81 points. 
Results - 2019/2020 KWPN Stallion Competition  - Zuidbroek
L-level
1. Hans Peter Minderhoud - King Karim - 94
2. Manuel Springhetti - Kjento - 92
3. Hans Peter Minderhoud - Taminiau - 88
4. Bart Veeze - Kyton - 88
5. Lynne Maas - Kaygo - 81
6. Adelinde Cornelissen - Kayne - 80
7. Jesslin Galiart - King van het Haarbosch  - 79
8. Vai Bruntink - Kilimanjaro - 77
9. Renate Kouwenhoven - Karajan OMHG - 68
Mara de Vries - King de Niro - DNS
M-level
1. Marieke van der Putten - Jameson - 93
2. Renate van Uytert - Johnny Depp - 91
3. Renate van Uytert - Just Wimphof - 90
4. Dinja van Liere - Joop TC - 88
5. Kim Koolen  - For Ferrero - 81
6. Franka Loos - Jones - 80
7. Bart Veeze - Jerveaux - 79
7. Gonzalo Castilla - Joyride - 79
9. Eva van der Linde - Jerenzo Texel - 76
10. Kimberly Pap - Jersey - 75
11. Manuel Springhetti - Jayson - 74
Theo Hanzon - Johnny Cash - DNS 
Z-level
1. Bart Veeze - Imposantos - 94
2. renate van Uytert - In Style - 90
3. Jennifer Sekreve - Indigro - 81
4. Theo Hanzon - Invershin - 80
Related Links
Taminiau, Jameson, Imposantos Win Second Leg of 2019-2020 KWPN Stallion Competition
Taminiau, Johnny Depp, Imposantos Win First Leg of 2019-2020 KWPN Stallion Competition