U.S.A.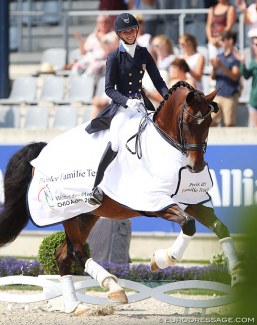 Right before the start of the 2020 Wellington dressage show season and Olympic qualification period, American's number one Grand Prix rider Laura Graves announced the retirement of Verdades, U.S.A most successful dressage horse in history, so far.
Graves has not shown Verdades since the 2019 World Cup Finals in Gothenburg in April 2019 and rumours were rife that the horse was not fit going into the 2020 Olympic qualification season. 
Graves has now confirmed the news and announced the retirement of "Diddy". 
Retirement "with both a heavy heart and a grateful mind"
"It is with both a heavy heart and a grateful mind that today, I announce the retirement of my great friend, Diddy," Graves announced on 8 January 2020. "I've always promised that I would do my best to listen and make the right choice for him when this time came. It became clear in recent weeks that he was not going to be able to return to his usual top form in 2020."
"it is still a very new and very sad realization for me that this journey has reached its end," she added.
Verdades has been Graves "Once in a Lifetime" Horse
"This horse not only achieved every goal we ever set, but he fulfilled dreams that I never knew I had," she said.  Not always the easiest, it was his generous heart and incredible sense of loyalty that made him one of a kind. Every time I sit in his saddle, I continue to feel honored and humble that he allowed me to be his person. We have travelled the world together, many times over and cut our teeth at some the world's greatest competitions.
The Rise of Diddy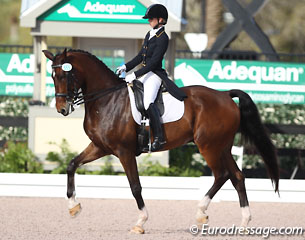 It was the keen eye of Laura's mom, who spotted Verdades as a foal on a video from Holland in 2002 and pointed him out to Laura. The Vermont based family acquired the foal six months old and shipped him to America. 
As a youngster, the Dutch warmblood gelding by Florett As out of Liwilarda (by Goya) proved to be too hot tempered and difficult for Graves, who at the time was a young adult choosing an easier, more social and profane path in life at the time. She obtained her cosmetology license, moved to Boston and worked as a hairdresser for almost two years after which she decided to follow her heart after all and return to Verdades. 
She began as a working student at Anne Gribbons' yard near Orlando, Florida, and the together with the international judge trained Verdades up to Grand Prix level. They made their CDI debut in 2012 at small tour level and in 2014 made their international Grand Prix debut in Wellingon, Florida.
America's Sweethearts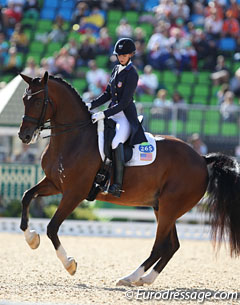 In their first year at Grand Prix, the pair caught the attention of the high performance staff at the United States equestrian federation. Graves moved into training with Debbie McDonald and their career took flight from there. 
In the spring of 2014 they proved their mettle in Europe at CDi's in Fritzens and Aachen and were selected on the U.S. team for the World Equestrian Games in Caen, France, where they exceeded all expectations and finished fifth in the freestyle as best U.S. rider beating the "old" American team establishment at the same time. They were also the 2014 American reserve Grand Prix Champions in Gladstone.
In 2015 they competed at the World Cup Finals in Las Vegas where they were fourth. At the 2015 Pan American Games they won team gold and individual silver.
In 2016 they went to their first Olympic Games in Rio de Janeiro, where they were fourth in the Kur. 
In 2017 they tasted first major global podium glory when they finished second at the World Cup Finals in Omaha. As of that year Graves began to compete Verdades sparingly with just the minimum allowed number of shows for championship qualification. The icing on the cake in 2017 was winning the Grand Prix Special at the CDIO Aachen (and beating Isabell Werth on Weihegold). She was also third in the Kur at Aachen.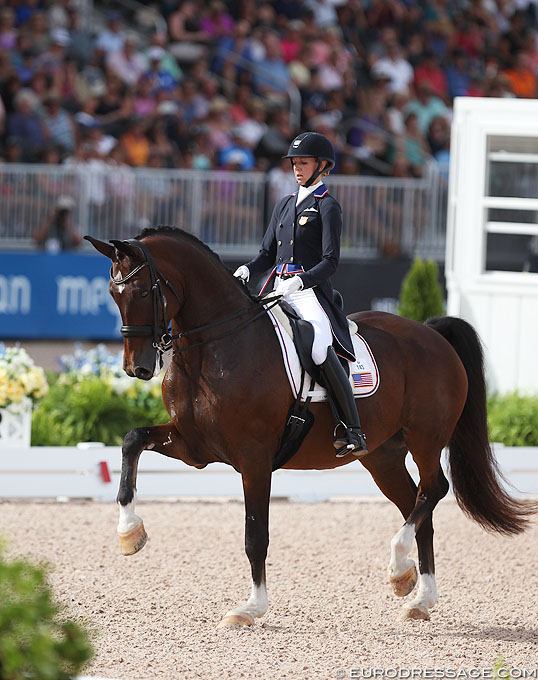 In 2018 Graves repeated her show strategy of 2017: the minimum set of World Cup qualifiers in Wellington to compete at the 2018 World Cup Finals in Paris, where they were second again (after winning the Grand Prix and beating Werth/Weihegold for a second time). In 2018 Graves could not pull the same Aachen stunt she did in 2017. She did win the Aachen Grand Prix, but was then 11th in the Special but bounced back to third in the Kur. 
Nonetheless they went to the 2018 World Equestrian Games in Tryon USA as biggest rivals for Werth and favourites for the gold. The U.S.A team won silver and individually Graves got silver in the Grand Prix Special. The Kur was scratched because of Hurricane Florence. 
Except for 2013, Verdades competed seven consecutive years at international Grand Prix level. 2019 was to be his last show year. In Wellington the pair qualified for the 2019 World Cup Finals in Gothenburg, where they were second. It was Graves third consecutive second place in the World Cup Finals. 
The pair was tipped as America's anchor for a team and individual medal in Tokyo in 2020, but this dream has come to an end. With Verdades' retirement, American's medal chances have decreased significantly. 
Verdades turns 18 in the spring of 2020.
A Future for Graves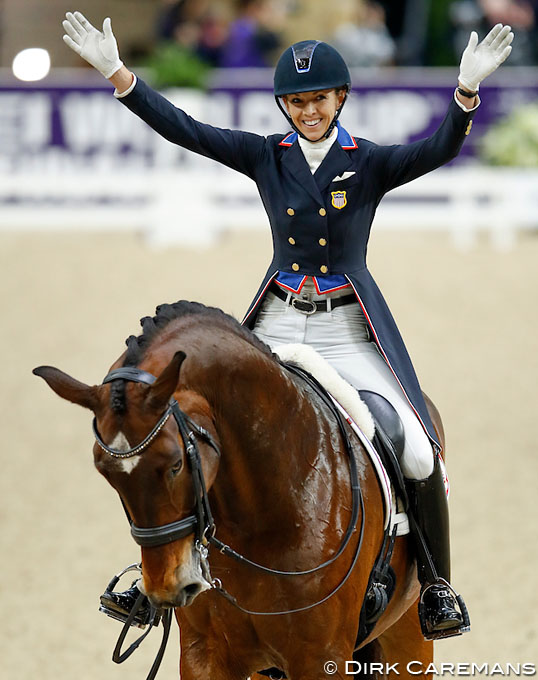 Although 32-year old Laura Graves never competed another horse at international competitions in all the years she has shown Verdades, the now full-time professional rider states she is "very much looking forward to the next chapter of my career with a stable full of young horses."
At the end of 2018 Graves told in an interview that she was developing three horses for 2019: her own rising 6-year old KWPN gelding Jahmairo (by Chagall x Krack C), the rising 11-year old bay Westfalian gelding Fizau (by Fidertanz - owned by Susan Shattuck), which she planned on showing at Developing Grand Prix level, and Dale Nielson's rising 7-year old KWPN mare Stella. These horses are yet to make their debut at a CDI event.
Without a doubt, Verdades has been Graves' career making horse. Aside from international medals, the pair were the 2015 U.S. Grand Prix Champions and Verdades  also became the USEF and USDF Horse of the Year in 2017 and 2018. 
They were the World Number One ranked pair on the FEI ranking for two months in 2018. They were the first American pair to do so. 
Althought the Gelderlander cross-bred gelding struggled with the piaffe, Verdades will most certainly be remembered for his "power grace" appearance, mega trot half passes, and stellar canter work. He executed unparalleled tempi changes and pirouettes.
Photos © Astrid Appels - Dirk Caremans
Related Links
Eurodressage Photo Database: Verdades
Laura Graves Thinking About the Future: Verdades Keeps Going, Three Stars in the Making
Bella Rose Blows Away Competition for Special Gold at 2018 World Equestrian Games
Verdades Named USDF Grand Prix Horse of the Year 2018
Laura Graves Named 2018 USEF Equestrian of the Year
Graves and Verdades Work to their Strengths and Win 5* Grand Prix at 2018 CDIO Aachen
Graves Notches Two, Beats Werth in 2018 World Cup Finals' Grand Prix
Verdades Voted 2018 USEF International Horse of the Year
Verdades Named 2017 USDF Grand Prix Horse of the Year
Laura Graves Beats Isabell Werth in Grand Prix Special at 2017 CDIO Aachen
Laura Graves Introduces New Ride Fizau at 2017 CDN Wellington
Double Gold and Individual Silver for USA at 2015 Pan American Games
Laura Graves Wins the 2015 U.S. Grand Prix Championship
Laura Graves, Gladstone Revelation Storming to the Top of U.S. Dressage
Scores: 2012 U.S. Dressage Championships