KWPN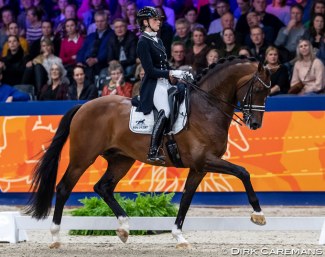 Dinja van Liere and the 9-year old KWPN stallion Geniaal became the winners of the 2020 VHO Trophy, held at the 2020 KWPN Stallion Licensing in Den Bosch on Friday 31 January 2020.
The VHO Trophy is an exhibition competition in which FEI level trained stallions showcase their gaits and training to the public. Not an official KNHS competition, the VHO Trophy is a way of bringing licensed breeding stallions to the public in a show and competition format. 
Van Liere and Geniaal (by Vivaldi x Biotop) scored a winning mark of 78.57% for their small tour level freestyle on the dressage show night at the KWPN licensing. 
Dutch 5* judge Mariette Sanders-van Gansewinkel, who co-judged the class with Veronique Roerink, said, "he is a very complete horse which is the furthest advanced in its training of the four stallions. Geniaal showed beautiful pirouettes and has a wonderful self carriage in the trot work. The stallion has much frontleg technique in the tempi changes."
The second ranked stallion was Ferguson (by Floriscount x Lauries Crusador xx) who scored 76.07%. Presented by Bart Veeze, the chestnut was praised for his extensions. 
Dinja van Liere also showed Germes (by Easy Game x Flemmingh) and they ranked third with 73.3%. Hermes was a bronze medal winning at the 2018 World Young Horse Championships. Unfortunately at the 2019 WCYH the stallion completely refused to go in the arena and was resistant. In Den Bosch he was back on form. 
Danish 2018 WEG team rider Betina Jaeger rode the KWPN licensing champion Franklin (by Ampere x Ferro). Owned by a Danish syndicate, the dark bay stallion has been a popular breeding stallion in Denmark. This year two out of five of his offspring passed the 2020 KWPN Stallion Licensing. In the VHO Trophy Franklin underwhelmed due to tension though. He scored 72,13% to place fourth.
Photo © Dirk Caremans
Related Links
Governor Wins 2019 VHO Trophy
Desperado Wins 2018 VHO Trophy
Westpoint Wins 2016 VHO Trophy
Capri Sonne Jr Wins 2015 VHO Trophy
Six Stallions to Compete in 2014 KWPN's Got Talent
VHO Trophy Becomes KWPN's Got Talent
Vivaldi Wins 2013 VHO Trophy
Vivaldi Wins 2012 VHO Trophy
Concept VHO Trophy Changed for 2012
Johnson Captures 2011 VHO Trophy
Tango Wins 2010 VHO Trophy
Florencio Wins 2009 VHO Trophy at KWPN Stallion Licensing