PRE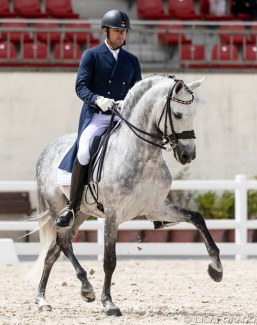 Spanish dressage team Olympian Jose Daniel Martin Dockx has been appointed the new coordinator of ANCCE's 2020 Seasonal Sports Plan for Dressage.
Martin Dockx will be responsible for coordinating the Seasonal Sports Plan for Dressage for both adults and juniors. Divided into a number of meetings, the Seasonal Sports Plan is organized to cover all of Spain, including northern, central and southern zones of the country
Relying on Experience
The Mijas based Martin Dockx has an extensive and successful career in dressage thanks, having competed at London and Rio Olympics on PRE Horses.
"He is well-aware of ANCCE's project as he participated in previous editions. In addition to his professional experience, he also has the necessary technical and teaching skills for this initiative," said an ANCCE press release
The Seasonal Sports Plan seeks to work with and help prepare horses/riders in junior and adult categories so that they are able to make the most of the natural aptitudes and then attain better results at competitions.
Meetings throughout Spain
There will be a variety of meeting within the scope of the Seasonal Sports Plan to cover northern, central and southern Spain. These clinics will be repeated in each geographical area to follow the work of the various pairs throughout the year.
Specifically, there will be two meetings per zone, which may be held at the same venue, or at different locations depending on where the entry forms come from. In the case of juniors, one option is to dedicate the afternoons of those same days to them, or create specific weekend Seasonal Sports Plans for juniors. It will all depend on the number of entries received.
To participate in second meetings of each zone, preference will be given to those pairs that have competed in the current year and those showing the best aptitudes; of course, based on the criteria of the coordinator.
First meeting in 2020
Central Zone: March 24th and 25th (at the equestrian facilities of Hípica Las Cadenas, Camarma de Esteruelas, in Madrid)
Southern Zone: April
Northern Zone: May
"The Dressage Commission, together with the Plan's coordinator, will study other requests for meetings, other than those already foreseen on the agenda, if and when there is sufficient demand from possible participants," the press release read. 
Photo © Lily Forado
Related Links
Jose Daniel Martin Dockx and Hampton Green Farms Part Ways
Jose Daniel Martin Dockx' Grandioso Retired at 2016 SICAB
ANCCE Designs an Equestrian Sports Plan for Purebred Spanish Horses
PRE Studbook Registered Over 11,000 Horses in 2018
Spanish Ministry of Agriculture Ratifies ANCCE as Sole Entity to Handle PRE Stud Book
Katharina Braren: Vitamin E for Spanish Dressage