KWPN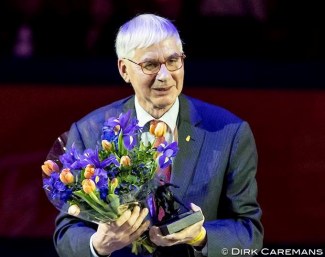 Reijer van Woudenbergh was honoured with the KWPN pin in gold at the 2020 KWPN Stallion Licensing in 's Hertogenbosch, The Netherlands, on Friday 31 January 2020. 
Van Woudenbergh has been a member of the KWPN Stallion Licensing Committee for nine years. He was also the chair of the licensing committee for the Gelderlander. 
KWPN chair Andries van Daalen gave the pin to Reijer in a special tribute ceremony: "Not only as a judge you have dedicated yourself limitlessly to KWPN breeding, but you are also very active and successful as a breeder. A pin in gold after all those years is well earned."
Reijer has reached his maximum time limit as a committee member and can no longer be up for re-election. He will be succeeded by Johan Hamminga in the dressage committee. 
"I didn't expect this at all," said a baffled Reijer. "I was enjoying the program when they called me to come into the arena. It's a nice appreciation for the years I committed myself with pleasure to the KWPN. Because I'm no longer part of the committee, does not mean I will have time to spare. My grand children are active in horse sport and I like to go to competitions with them. I'm also expecting some foals and there is plenty of work at home. I won't be bored."
Photo © Dirk Caremans
Related Links
Wim Ernes to Resign as Chair of KWPN Stallion Licensing Committee
Charmeur Best Represented Sire at 2016 KWPN Stallion Licensing Pre-Selection Days
Five Dressage Colts Pass Late Pre-Selection for 2014 KWPN Stallion Licensing