KWPN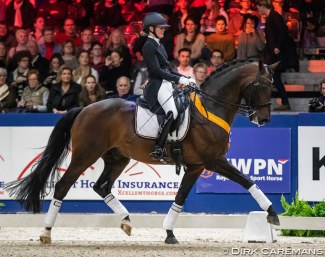 The 14-year old Dutch warmblood licensed stallion Bordeaux has been proclaimed Keur stallion. 
The dark bay stallion (by United x Gribaldi) was celebrated for having received the Keur predicate at the 2020 KWPN Stallion Licensing in Den Bosch on Friday 31 January 2020.
Bordeaux' breeder Marron Lisman was honoured during the predicate ceremony.
Bordeaux was the champion of the 2009 KWPN Stallion Licensing. Under Theo Hanzon he was third at the 2010 Pavo Cup Finals. Under Eva Möller he won bronze at the 2012 World Young Horse Championships in Verden and under Isabel Freese he represented Norway at the 2017 European Dressage Championships in Gothenburg. 
Bordeaux received the Keur status because of his own successes in the show ring combined with that of his offspring. His most successful son is without a doubt, Bohemian (Cathrine Dufour), as well as Grand Prix horse Bluetooth (Ingrid Klimke). At small tour level he has in the Netherlands: Ferdeaux (Hans Peter Minderhoud), Geronimo (Floor van Kempen). 
Bordeaux has also produced 2019 Pavo Cup champion Johnny Depp (Renate van Uytert) and WCYH finalist Guadeloupe-Beau (Kim van der Muren)
He has seven KWPN-approved sons: Ferdeaux, Google, Grenoble, Kenzo US, Kilimanjaro, Livius and Le Formidable.
At the 2020 KWPN licensing, the bay stallion was presented under saddle by owner Joop van Uytert's wife Renate, who only recently took over the ride from Japanese Olympian Akane Kuroki.
"I am so happy that I can ride Bordeaux," said Renate. "I have ridden up to Small Tour level myself and it is so nice to ride a horse that already knows all the exercises, then you know what you train for with the young horses. Bordeaux is just a few weeks back at our stable but we still need to form a combination. I want to start him in the Small Tour and then hopefully Grand Prix."
Photo © Dirk Caremans
Related Links
Kuroki Returns Bordeaux, Schoolmaster for Renate van Uytert
Bordeaux Returns to Holland, Leased by Kuroki for One Year
Desperado, Charmeur, Bordeaux Win 2012-2013 KWPN Stallion Competition Finals
Borencio and Amazing Star Go All the Way and Take 2010 Pavo Cup Finals
Bordeaux, Champion of the 2009 KWPN Stallion Licensing