2020 CDI Wellington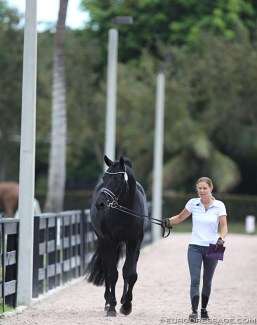 The 2020 edition of the Global Dressage Festival is half way through its show circuit and what is supposed to be the season highlight, the CDI 5* and U.S. Olympic team Mandatory Outing, has brought afoot a large pack of international riders, yet two of America's super starts are missing in action. 
The weather is brilliant in Wellington. It is hot with the sun searing, but a cool breeze swooshes through the show grounds. Many flags are represented at the 5* CDI, which starts today 19 February 2020 and runs through Sunday. A large delegation from Canada and Japan are here to prepare and qualify for the Tokyo Olympics, but there are also flags from the Dominican Republic, Venezuela, Argentina, Mexico, and Israel on the starters lists amongst other nations. 
The horse inspection kicked off at 10 AM on Wednesday morning. While the majority still makes an effort to present their horses braided and shiny in front of the ground jury and FEI vet; there are others who have become lazy. They wear their stable clothes and present unbraided horses. Where is the style, the elegance and the weightiness of representing oneself at best form an international dressage competition?
Four horses were sent to the holding box for a check and then re-inspection, including Susan Pape's Don Nobless (by Dancier). Masahiro Kosaka's Eddieni (by Johnson) will be re-presented tomorrow morning.
Here is a selection of photos that Astrid Appels took at the trot up. Enjoy!
The Grand Prix 3* starts tomorrow at 8 AM, while the 5* classes take place in the late afternoon and run through the evening. 
Photos © Astrid Appels - NO REPRODUCTION ALLOWED
Related Link
Scores: 2020 CDI Wellington