Hit & Run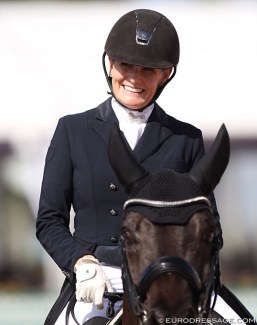 In corona times we are all ordered to stay at home, self quarantine, and do social distancing. With more time on your hands to spend online, Eurodressage launches a "Hit & Run" interview series so that you get to know the world's most famous dressage riders and personalities more closely. 
Canadian born Ashley Holzer is a four-time Olympian, having won team bronze at the 1988 Olympics in Seoul. Since 2017 she rides for the U.S.A while she continues coaching a string of Canadian high performance team dressage riders. She is based in Wellington, Florida. 
Hit & Run - Ashley Holzer
What is your earliest memory? 
I was about 2 and I remember being at the ski hill. 
Which person alive do you admire the most and why?
My husband. He is kind caring and a wonderful father to our two children. 
When were you the happiest?
With friends and family and bring with my horses. 
What is your biggest fear?
Something happening to my family. 
What was your first though today?
I wish I could sleep longer
What is your most annoying character trait?
Just one? Well probably impatience with people who do silly things and I could also listen more. 
Which trait do you dislike the most in other people?
Dishonesty 
What is your dearest possession?
My health
If you look into the future, what do you see?
Hopefully peace 
What makes you unhappy?
Confrontation 
What is the love of your life?
My husband (Rusty Holzer)
What was the best choice you ever took in life?
Saying yes to things (even though no is often easier)
What's your guilty pleasure?
Many things but right now Netflix!
What do you owe your parents?
So much. Without their support I would not be where I am today
Who can sit next to you at your dream dinner table?
I'm so boring. My dream table is a huge table with my family and fiends.  If I could have another dinner with my parents that would truly be a dream come true.  
What was the worst job you ever did?
I once had to unload trucks and trucks of hay for a summer job. It was hard work but I did sleep well and my pants were loose! But it wasn't much fun as it was so prickly. 
What was your biggest disappointment in life?
Wow that's tough. Honestly there are too many to think about but the one that comes to mind was not appreciating something  until it was too late.
What would you change if you can go back into the past?
I would have liked to have found a way to attend college AND ride. My parents could not afford both and I chose horses but I wish there had been scholarships available for equestrians at the time 
Name one thing that would improve your quality of life?
Time management. I seem to always be in a rush.  
What is your biggest achievement?
Hopefully I haven't reached it yet
What is the most important life lesson you have learnt?
Show up and try your best
Where would you like to be right now? 
Where I am.
What's your favourite scent?
I love floral scent. Gardenia
Which character would you dress up in for Halloween?
I'm Gumby. Every Year!!!
To whom would you like to say sorry?
My daughter 
What does love feel like for you?
Happiness, safety, bliss 
When are you most relaxed?
Sometimes on my horse sometimes hanging with family/friends.  
What super power would you like to have?
Time travel
When did you last cry, and why?
I am a bit of a softy when it comes to crying. My brother and I always joke we are the same. Even a touching commercial can start the floodgates! 
When were you closest to death?
I was hit by lightning as a teenager.
How do you want to be remembered?
Fondly
Related Links
New Bliss in Ashley Holzer's Barn
Holzer and Eastwood on a Roll at 2020 CDIO Wellington
Holzer and Eastwood Make it a Double on their CDI Debut at 2020 CDI-W Wellington
Ashley Holzer Declares for the U.S.A.