2012 Great Evening of Classical Riding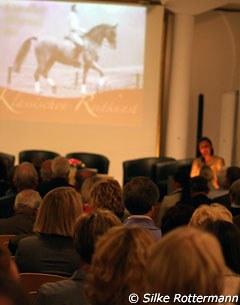 Just one day after her appointment as chief German team trainer, Monica Theodorescu took part in an evening dedicated to classical dressage and former national coach Harry Boldt. The evening session was organised by the Personal Members (PM) of the German FN on 6 September 2012 and took place at the German Horse Museum in Verden, the home-town of the late Holger Schmezer who had followed in the footsteps of Boldt and Balkenhol during difficult times for German dressage.
Attending speakers included Monica Theodorescu, Nicole Uphoff-Selke, Kristina Sprehe, Johnny Hilberath and Ullrich Kasselmann alongside the now Perth based Harry Boldt. The event was completely sold out beforehand and the audience was squeezed in a room with two huge glass cabinets exhibiting old harnesses on each side. With 120 visitors in attendance, the audience got a mixture of panel discussions and screenings.
Christoph Hess, head of the Personal Members society, welcomed the audience and reflected on the recent passing of two equestrian personalities from Verden: Holger Schmezer and Stefan Krawczyk. Both had stamped the sport of dressage in different ways and both are sadly missed.
Wandering through the history of the art of riding

The key topic of the evening was "The Art of Classical Dressage" and the mood was right from the start with a short film going back more than 80 years ago. Renowned producer Thomas Vogel from Pferdia company and Werner Stock from the German FN had done a Sisphyean task siftting and cutting suitable material for the video.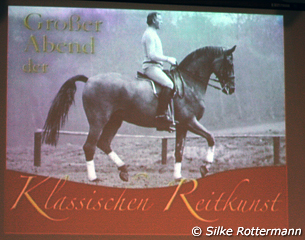 The first piece put us back to the time when the legendary HDV 12 (cavalry manual) was the bible trainers and riders stricly followed. It showed the then 82-year-old Berlin based trainer Oscar-Maria Stensbeck riding the East Prussian Gimpel. Even this old footage could not paper over the fact that this horse, which won two Olympic team gold medals in dressage (1928 and 1936), moved with an incredible lightness and self-carriage.
The video also included footage of showing jumping riders training at the Cavalry School of Hanover with an outstanding style. The movie concluded with extracts of the 1936 Olympic cross-country course, highlighting the numerable falls at the lake. Although some took this as an opportunity to laugh heartily, most of the audience became aware that horse sport in its infancy was as demanding as it is today and maybe even beyond it as one had to deal with less suitable horses.
International eventing rider Friederike Tophoff-Kaup gave a historical review on the evolution of dressage from Xenophon to Plinzner. She highlighted that even centuries back dressage was a topic of discussion and differing opinions on the right training of the horse. A good, but extreme example was the controversy around the French François Baucher who created division amongst equestrians by practising extreme flexions in halt. Dressage today splits the sport between advocates of the classical and so-called "modern" approach, but these controversies have existed at all times.
Tophoff-Kaup's short lecture made clear that there have always been more or less cruel horsemen, which still obtain a certain kind of success and those who care about the horse's welfare and try to understand its character and train it in a way so the horse stays healthy and usable for a long time.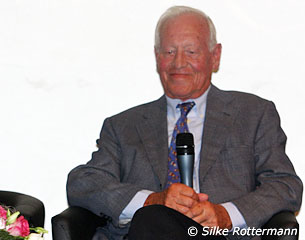 Harry Boldt can look back on an incredible and almost unparallelled career as a rider and national coach. Boldt booked tremendous success as a dressage rider over three decades, winning two team gold and two individual silver medals at Olympic Games and several more at World and European Champioships. The now 82-year-old established even more breathtaking achievements as national coach of Germany in dressage.
"During his 16 years as national coach his riders won the incredible amount of 50 medals, 31 one of them were golden," said moderator Christoph Hess when introducing his first guest of the evening. Before Boldt joined Hess on the podium, his 1964 Olympic ride on the small Ramzes x-offspring Remus was shown on the big screen.
Boldt talked about his own career and his first Olympic horse without forgetting to remark that it took the judges considerable time to discuss  the marks at Tokyo 1964. "As Josef Neckermann with Antoinette was the favourite from our team to win an individual medal, I first was over the moon winning silver, but then I realised that I had lost the gold by only one little point and became a bit unhappy. I fretted over it and asked myself where I could have lost that single point. Maybe in the not completely closed last halt," he admitted.
Boldt had ridden at Grand Prix-level already as of the 1950s, but it was Remus which had paved the way to the big time. However it was the huge Hanoverian Woyzeck he considered "to have been my best and my most favourite horse." The chestnut gelding by Wunsch was already a ready-made Grand Prix horse, trained by Udo Nesch, when a sponsor bought him for Boldt in 1975. "I just had to refine some movements, but could immediately start him at the European Championships the same year. Woyzeck was absolutely reliable. He was never moody, always eager to work and bomb-proof."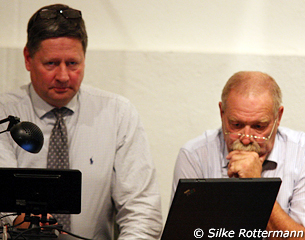 The audience got a taste of the horse's dressage abilities when Thomas Vogel showed another short film showing Boldt train Woyzeck at home in Iserlohn. The footage showed a horse ridden in a snaffle in absolutely balance despite his height and tremendous frame. There was spontaneous applause from the crowd when Woyzeck showed the most perfect canter pirouette. As many of the younger dressage lovers had never seen Boldt and his horse compete in the 1970s and beginning 1980s, Woyzeck is still well-known amongst the younger folks because he is the cover hero of Boldt's classic book "The dressage horse" (original title: Das Dressurpferd).
This book was first published in 1978 and since then has become a book essential on the dressage enthusiast's book-shelf. Very expensive in its first more luxurious version, the book was out of print for several years and only available second-hand before FN Press decided to do a republication with Boldt. This new edition soon climbed the ladder of the selling-ranks, appearing in a new outfit and with texts in German as well as in English. The book's structure remained mainly the same, giving a wonderful overview of the development of dressage and early Olympic Games. It also includes several portrayals of the most famous dressage horses ever. However, the heart of the book is the part in which Boldt and Woyzeck demonstrate dressage movements in detail, complemented with suitable descriptions.
In Verden Boldt explained why he wanted his book to be republished in our times. "I wrote this book on the basis of classical dressage. Classical dressage means training without force but the opposite seems a bit en vogue at the moment. Long, deep and short or how it is called. I always disapproved to make horses too tight in the neck, performing with a sour expression and flattened ears. I think most important is that a dressage horse expresses happiness."
Ullrich Kasselmann und Nicole Uphoff- Selke: Two who learnt from Boldt

Two more guests joined Boldt and the two moderators, Christoph Hess and Mrs. Terhorst, on stage: Four time Olympic champion Nicole Uphoff-Selke and horse dealer Ullrich Kasselmann, the inventor of the PSI auctions and organizer of CDI Hagen.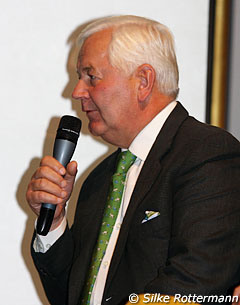 Whereas many still might connect Boldt with Uphoff who rode under his tutelage in three Olympic Games, less is known about the early connection between Boldt and Kasselmann. The latter was asked what's the secret is behind him training talented horses to the highest level alongside his wife Bianca for over three decades.
Kasselmann replied that he first learnt the ropes from legendary Hans-Joachim Köhler, but then rode with Harry Boldt. "Harry allowed us to ride good horses at his home from which we could learn a lot. Harry himself was an excellent trainer for us. He didn't say a lot, but when he said something, it was always right! As a rider Boldt was a genious in the way he was able to influence his horses with his back."
Kasselmann added that today there are many more talented horses for dressage than when he rode with Boldt, though the demands are the same. "A good dressage horse needs to have the right attitude, good basic gaits, natural balance and an outstanding hind-leg activity."
These attributes were represented to its finest by Grunox (by Grunewald), Monica Theodorescu's two time Olympic gold medallist who was owned by Kasselmann. "When Grunox was pulled out of the Verden auction collection, I went to the breeder to buy him because this horse had outstanding quality."
Another horse with outstanding quality and of a unique fascination in his best years was Nicole Uphoff- Selke's Westfalian Rembrandt (by Romadour II). The horse made her the youngest Olympic Champion ever and fascinated all with his lightfootedness and great expression. However he also caused the first early, "recent" discussions whether dressage was leaving the path of the classical approach.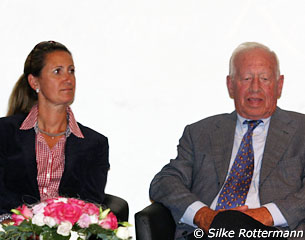 Uphoff-Selke stressed the decisive impact Harry Boldt had on her and her horse's career: "In 1987 I was long-listed for the Olymic Games with Rembrandt. During that time I trained with Dr. Schulten- Baumer senior, who gave me the proverbial 'key' to Remmi. But now I also got help from Harry as the national coach. I soon sensed that his way of training, watching the rider, not interferring too much and saying little, but at the right time, suited me and my horse perfectly. So I moved to Warendorf to continue training with him in 1988."
Christoph Hess remarked that Rembrandt and Nicole not only became famous through their success, but also to a certain extent because of a picture in St. Georg-magazine, showing the horse in rollkur-position training at home.
"How did you handle this," Hess asked Harry Boldt, who is considered an advocate of the classical approach. Surprisingly Boldt replied that "I think to call that rollkur is exaggerated. It is right that we put Rembrandt deeper in the warm-ups. If we didn't do it prior to a class he wouldn't go over the back anymore later. If we put him deeper beforehand, he went into the arena at a show and moved in a fantastic frame, in complete self-carriage and with the nose in front of the vertical." Unfortunately Hess avoided delving deeper into the matter, even though the subject is an extremely hot topic with Germany's own A-team horse Totilas being trained in the fashion.
Kristina Sprehe and Johnny Hilberath on their recent Olympic experience

Whereas Boldt and Uphoff's Olympic careers are over, Kristina Sprehe's has only just begun. Sprehe and former national coach Johnny Hilberath were the next speakers and they talked about on their one-month old Olympic experience in London.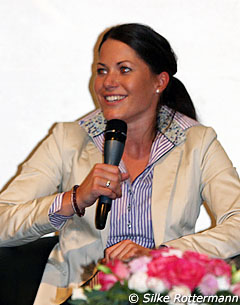 For the first time in 40 years Germany returned home without team gold, but instead of considering it as a negative, Germany's young and refreshing ladies' team all rode on classically schooled horses which delighted the dressage public at home.
Kristina expressed her enthusiasm of the days in London at the session. "It is hard to highlight something. I won countless impressions. We were a wonderful team and the mood was great. I also think the Olympic village was a great experience for us," said the timid Sprehe.
Johnny Hilberath, who never intended to take over the job of team coach after Holger Schmezer's untimely death in April, confirmed Kristina's statements.
"I had a great time, not only in London, but also in the lead-up which was a special experience in itself. The girls and I grew together, we had intense training sessions at their homes and an optimal training camp at the Pidgleys in England. From the first day our horses loved it in London and ate well. I think they returned home heavier than they arrived," reported a visibly happy Hilberath.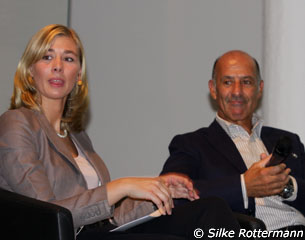 Sprehe's ride on Desperados in the Grand Prix Special was presented on video and Kristina commented in a most honest and self-critical way rarely seen amongst dressage riders. "I think it was not my best ride in London. The horse could have been more closed in the frame. I was a little bit nervous and probably it was transferred to my horse."
Harry Boldt who has seen more Olympic Games in dressage than anybody present that evening praised the general level at the London Games: "I was in England for the Grand Prix and saw many really good rides. The horses are better in the way they are not so short in the neck anymore. I see an improvement towards more normality, many horses do not show that tense steps anymore."
Monica Theodorescu on her new challenge
At the end of the evening Monica Theodorescu joined the two former German team coaches on the podium. An experienced Olympic dressage rider herself, Monica admitted "that I am not yet used to this title. I am very proud, but I have great respect for this new task because it is affiliated with high expectations. However, the ground is well prepared because excellent preparatory work has been done. We have a good system with classes for upcoming Grand Prix riders and young Grand Prix horses such as the Louisdor Cup. The best example originating from our system is sitting here. Kristina was already a successful pony rider."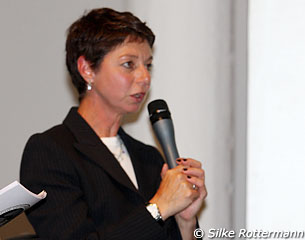 Monica stressed that the tasks a national coach has to fulfill nowadays are much more extensive than what they used to be in the past. The added assignments have made it necessary to work in a team, in Monica's case alongside  Johnny Hilberath and Jürgen Koschel. "Team work like this is a good thing," she said.
Christoph Hess asked her if there will be some kind of "retirement ceremony" for the rider Theodorescu to which Monica replied with a deep sigh: "I don't know, I haven't planned something like that, I at least never did it when my horses retired. I know it is the right decision for me to become national coach, but I still need to say good-bye to my own riding mentally. But I tell myself that from 1 October 2012, when my new job starts, there will be no time anymore to think about it."
Hess highlighted Monica's ability to be an absolute team-player. "In the past it was beaten into us that the Grand Prix test at a championships is the most important thing. There was always big pressure because the gold medal was the one the public considered as 'garantueed'. And without team spirit it is not working," Theodorescu stated.
As the first woman in the history of German dressage Monica holds the title of national coach. She stated wisely and with a twinkle in her eye: "Not the gender, but the competence should be decisive. And taking the fact into account that we have so many girls in this sport, it was almost logical that one day a woman would be appointed."
What is classical dressage?

After a break in which Harry Boldt relentlessly signed copies of his book, the evening continued with the last part. Friederike Schulze-Tophoff presented quotes from famous riding masters to the guests on the podium, who were asked to comment. This led to the question what classical dressage is; a question asked very often and with very different answers.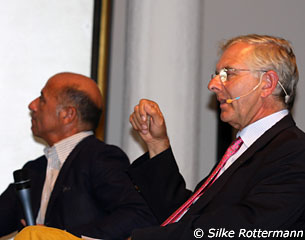 Before the question was raised, a video of Helen Langehanenberg's title winning rides at the German Championships in Balve were shown on the big screen. The images prompted Hess to ask "Is this classical dressage?"
"What we understand under this term of classical dressage is defined in the FEI rules," Boldt replied shortly, but clearly. Ulrich Kasselmann agreed in principle stating that  "the term 'classical' one can interprete in different ways. Many ways lead to Rome. In the end one has to adhere to the FEI rules."
Thies Kaspareit, head of training at German Equestrian Federation and 1988 Olympic team champion in eventing, added a new aspect: "Classical means the natural training of the horse. It should work in harmony and over the back. Natural also means offering the horse a variety in training."
Theodorescu pointed out that classical means one bases the training upon the experience of the old masters without forgetting we are living for the present and are riding modern horses. "Classical does not at all mean old-fashioned. Sometimes we are sneered at abroad 'They and their classical'. Our training is based on the training scale. We train the horses following classical principles, but as we are living now we also present them in more modern way, in the sense of riding more forward."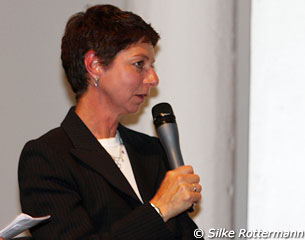 The evening was ended with a short clip showing the late Hans-Heinrich Isenbart in the midst of a herd of broodmares and foals, commenting on the invaluable meaning horses have for the history of mankind. "What can we give back to the horse," he wondered. This question Hess also raised to the panellists.
Ullrich Kasselmann, Harry Boldt and Johnny Hilberath were in unison in their belief that horses live in better conditions today. They enumerated the better possibilities to treat horses with modern veterinary science and the improved opportunities to find out about their problems and to communicate in a better way with them. Monica Theodorescu put in a nutshell and said that the easiest way to give something back to the horses is "despite all sporting ambitions our horse should be our partner and friend!"
Text and Photos © Silke Rottermann
Related Links
Monica Theodorescu Appointed New German Team Trainer
Monica Theodorescu: Backed by History, Facing the Present on Home Bred Horses
Harry Boldt To Celebrate His 80th Birthday
Angelika Fromming: Half a Century of Dressage
Remus, From Exchange Object to Serial Medalist