Exotics in Dressage
The Netherlands have established themselves as one of the leading countries when it comes breeding dressage horses over the past thirty years. Their horses often have the knee action in front which looks impressive, though it is not always easy to keep up for the hind legs. This way of moving is not incidental; it is the heritage of the traditional harness breed of Holland, the Gelderlanders.
When the Dutch began to breed more modern sport horses for their KWPN society, which they founded in 1969, they mixed the two traditional breeds, the Groninger and the Gelderlander, with some thoroughbred.
The Gelderlander survived as a breed on its own for driving. They are big, impressive horses with strong legs and a lot of knee action which makes them perfect to be put in front of a carriage and make an impression. Like other harness breeds they usually have a long back and a long arched topline with big heads.
Now and then a Gelderlander managed to enter the Grand Prix stage in dressage, overcoming the disadvantages of its typical conformation. Zooloog, a pure Gelderlander stallion licensed for the KWPN, was sold to the USA and was a silver medalist at the 1991 Pan American Games under Tom Valter. The beautiful chestnut gelding Dikkiloo started with Kirsty Mepham at the 2000 Olympic Games in Sydney on the British dressage team after he began his career as a driving horse.
While Lianca is constantly referred to as a Gelderlander in the international press, the KWPN society stresses that she qualifies as a Dutch harness horse. The KWPN society stated that the Gelder horse is bred for riding as well as driving, whereas the harness horse's sole goal is to be driven. According to the society, Lianca should be categorized as a harness horse as her sire Tourist is also one. Lianca is out of the preferent mare Bianca (by Oran) Lianca was bred by R. Brink and born in 1993.
The Dutch Harness horse, which probably made the most team appearances at international dressage championships was the remarkable bay mare Lianca of former French Grand Prix rider Constance Menard. The bay mare was retired in 2009 due to a severe tendon injury.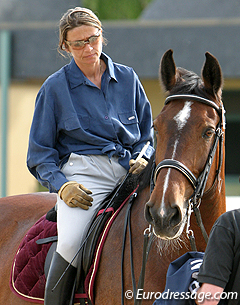 Like many of her breed Lianca started life at a driving yard in Holland after she had had a foal at the age of four. However, the stocky mare's career in front of a carriage was cut short as she was too spooky, a habit which would accompany her throughout her career in sport. Lianca was sold to France and landed in a circus where she stayed for about two years before a retired farrier of the French army bought the horse. Lianca stayed with him for the next four years, but due to a family situation he had to sell Lianca when she was 10 years old.
Constance Menard, who had already competed at Grand Prix level internationally with the Lusitano Vanini, was able to buy the mare with the amber coloured eyes. "I can't say that I choose her for her beauty or because she owned the physical characteristics of a dressage horse, but because of her mind, she was strong and volunteered and she has the most beautiful eyes I've ever seen," Menard explained.
Lianca, who was nick-named "Noisette" because of her very special hazelnut eyes, was a typical representative of her breed: big, strong boned, with rather short legs, a long strong back and a huge head set on a very short neck. While there no doubt she could trot and lift her legs, her canter was almost non-existent when Constance began to work with her. They had a long way to go to have the mare canter in a three-beat-rhythm. "We have been working and working. The canter was so difficult that it took me two years to get a normal pace," Constance confessed. "I was the only one to canter her otherwise she started again to canter like a trotter. She had no canter which is a problem for the Grand Prix, but every day she tried so hard that I knew she would make it. She was so eager to work and clever."
According to Constance her trainer at that time had never trained a horse to Grand Prix and he very much preferred German bred warmbloods to a heavy harness horse, "but Lianca was so unbelievable that he started the adventure with her." While the mare struggled learning the right canter and collect this gait, the piaffe and passage were movements she, unlike many of her blood influenced warmblood mates, found really easy. "The Gelderlanders like being high with their legs and as they also have lots of natural energy the piaffe and passage work was easy for Lianca", she said.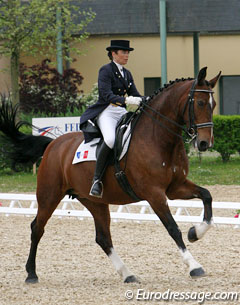 Taking into account that the mare, who formed a strong bond with her petite rider, was a late starter in dressage Lianca moved up to Grand Prix in a short period of time. Appearing on the dressage scene with a horse as special as Lianca caused quite a stir, but at the beginning not a positive one! The other competitors and also some judges couldn't believe that somebody wanted to compete at Grand Prix on a horse that cried out for the carriage more than anything else.
Constance remembers that at the beginning of the mare's career she had quite some problems at national shows in France where they wouldn't really accept Lianca. "I had won a national Grand Prix with Lianca in 2004, but at the beginning most of the judges didn't give many points because Lianca was so ugly. So I decided to compete abroad. I did the Sunshine tour in Vejer de Fronteira in 2005. When I rode Lianca in the training on the first days before the competition everybody started laughing, but after the first Grand Prix they all came to tell me that she was unbelievable."
This traditional show circuit in Spain at the very beginning of the 2005 show season became Lianca's international (and national) break through. "I won the Grand Prix Special in Vejer. So as the O-judges started giving me points everybody changed their minds," Menard reminsced.  Lianca went on to win at the CDI Lipica the same year and was nominated for the French team to compete at the 2005 European championships at Hagen after which her career had a stand-by of several months because Constance suffered a horrible barn accident which put her on the sideline.
Lianca's career continued for three more years. She was a consistent member of the French national team from 2005 to 2007, representing France at the 2006 World Equestrian Games in Aachen and at the 2007 European championships in Turin. Sadly the mare very narrowly missed team selection for the Olympic Games in Hong Kong in 2008, where they were non- travelling reserves. The Olympic dream remained a dream. After a severe tendon injury, which took a long time to heal, Lianca retired at the age of 16 to become a broodmare.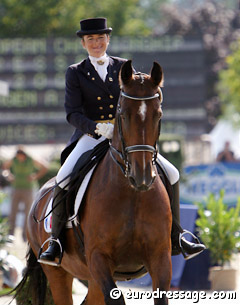 The mare was never really up to the highest standard in the canter pirouettes, in which she found it hard to sit or in the flying changes which were often too short and more high than forward. However, Lianca's piaffe and passage could contest with the best of her time and her eagerness to do it right and please were very obvious.
The fact that she was so very different and trying so hard intrigued spectators who loved this different type of dressage horse in whichever country Lianca appeared. Constance remembered happily that "Lianca was a star for the crowds, especially in England because it's a country where all horses can have a chance and they loved her there. We even managed to become the cover of Horse and Hound after we won two Grand Prix classes at the CDI Hartpury."
Constance admits she would try again with a horse from an untypical dressage breed as long as it has the quality, although she is aware that one has to withstand prejudices. "As long as you ride well and keep the dressage philosophy into account it just takes more time to get the points than with a black Hanoverian," Menard confessed. "But the judges are sensible to the magic movement and the happiness in the work so if you have a super horse who is a little bit special you can make it."
Text by Silke Rottermann - Photos © Astrid Appels
Related Links
Exotics in Dressage: Seldom Seen, a Connemara Crossbred Going All the Way
Exotics in Dressage: Balagur, an Orlov Trotter in the Olympic Dressage Arena
Exotics in Dressage: Airthrey Highlander, a Clydesdale Crossbred at Grand Prix in New Zealand
Exotics in Dressage: Walter and Giddy, Shire Crossbreds with a Career in Dressage
Constance Menard's Lianca Retired
Constance Laboute's Claim to Fame