Real Estate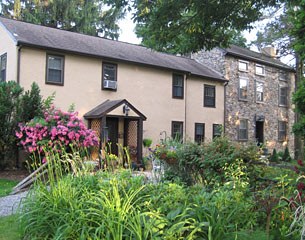 Professional, Amateur Horse-lovers: an Equestrian Center built to ride and train horses to the highest standards but thought out for economy of maintenance and costs. Reigning Harmony Farm is an exceptional Bucks County horse farm located minutes from New Hope, PA, U.S.A. No money has been spared on renovating this charming European style property from foundations up!
Main House
The Bucks County 1730's stone/stucco farm house, nearly 3,500 sq. ft. built, is the quintessential charm of early America. Meticulously restored and remodeled to maintain character. Solidly built cement block construction; stucco plastered walls recently painted.
A romantic home; irresistible; 4 bedrooms, 2 full baths, wide plank floors, 2 fireplaces, original restored kitchen, modern and showcase pie stairwell. Sun glows through new windows. European tiles and mosaics color the mood. Updated electric, bathrooms, plaster, flooring, fixtures, more.
The house is enveloped by English country style gardens to entertain yourself, family, friends and clients. All economical to keep yet luxurious to the eye. Fruit trees, lilacs, flowers; frogs love the swimming pool. A deck to reflect on the goodness of life; view grazing horses. Act 319 lowers taxes.
Although sub dividable to 5 building plots; preservation allots $20,000 per acre; build a second home on the hill.
Equestrian Facility with Apartment
Open the stalls to create 8+ (12 x 24) stalls or 17 (12 x 12). Add 10 (12 x 14) in the rear barn, grandfathered in. Horses are warm in winter, cool in summer. Heated Nelson automatic waterers. Heavy duty partitions. Anti-cast stall door exits. Rubber mats. Wide Brick and Cement aisle/grooming areas, indoor wash stall, outdoor wash stalls. Two heated tack rooms; Barn Toilet; 2nd floor Observation Lounge, blanket storage room; laundry room; feed room;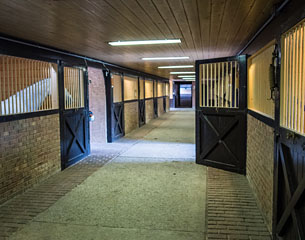 All attached to a 70' by 180' double trussed, spacious indoor arena; all new foundations, kickboards, 6 doorways, 14 sliding windows, mirrors and more. Ideal for clinics and parties; bleachers and standing area.
Large attached back barn for new stalls, hay and tractor storage and more. Ride the almost 12 acre lot or turn out. Well laid out and easy to mow weed free pastures. post and rail fencing with electric wire; two small stallion paddocks.
Flat grass riding field for outdoor training: Dressage, Polo, Jumping, Cross country; 2 cement water jumps. Vistas of forest and fields.
Second floor barn apartment: 4 bedrooms, full bath, open floor plan kitchen/dining/living room; closets galore; 69 x 19' loft storage area or finish to suit. The apartment overlooks the property entryway 1700's barn/workshop/garden studio. Hand hewn Siding.
Location
In one of the most picturesque areas in the USA, Reigning Harmony Farm is located minutes from New Hope, PA: for those who love the arts and free thinking life. Doylestown is the best of Victorian America. Nearby shopping to satisfy any budget and style, from the class of Wellington to bargain hunters.
Schools are tops, friendly people.
Easy access to Newark International or Philadelphia Airports.
Contact Information