Groom's Corner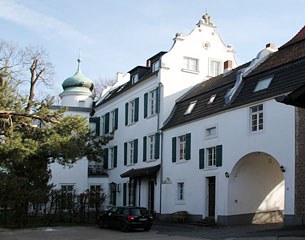 A private dressage yard in a castle Burg Blessem in Erfstadt, Germany, is looking for an experienced groom who can assist the owner with the overall care taking of ten horses.
This small, private stable is located on the Burg Blessem castle domaine and has all the facilities for a royal treatment of horses with winter paddocks and large, lush fields. 
Duties include the general care taking of five ridden dressage horses and five non-ridden horses: tacking, lunging, feeding, turn-out. The groom will assist the owner in those duties or take over in case she is traveling. The groom might also have to assist with the daily turn out of six livery horses, all owned by friendly people. No mucking out!
This yard offers excellent working conditions for a groom who no longer wishes to be a competition and travelling groom but an experienced groom who aims for a steady, low-pressure job, with the responsibility over nice horses in a wonderful town with everything close to the stable. 
S/he can bring own horse and dog and a flat in the renovated coach house of the castle is available.
Please send your resume to: