Eurodressage Equimarket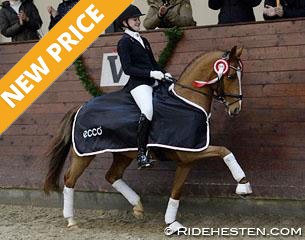 Highly competitive FEI Dressage Pony gelding. This 11-year old pocket rocket is an outstanding schoolmaster for the ambitious pony rider. Gold medal winner at the 2016 Nordic Baltic and Danish Championship.
Name: FB Gangster
Breed: Westfalian Riding Pony
Year of Birth: 2006
Sire: FS Golden Moonlight
Dam Sire: Dressman
Gender: Gelding
Height: 140cm
Asking Price: 70,000 euro
FB Gangster is a wonderful pony, who has been the perfect schoolmaster for a 12-year old upcoming FEI pony rider. He has taught her everything but she has now sadly outgrown him.
From 2015 till 2016 FB Gangster was the unbeatable category 2 pony (standing below 142 cm) at FEI Pony level in Scandinavia. He won the 2015 Ecco Cup Finals' overall championships after wining both rounds with scores of 70.447% and 74.042%. In 2016 he won individual gold at the 2016 Nordic Baltic Championships with a winning 73.618%. He also won gold at the 2016 Danish Pony Championships with winning marks of 72.735%, 73.496% and 76.125%.
FB Gangster is a truly great pony, who is now ready for his next rider.
Genuine enquiries only for a genuine pony please.
Located in Windsor, Great Britain
Owner Contact Info