The Netherlands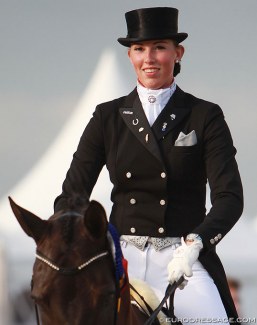 Former Dutch Under 25 team rider Stephanie Kooijman has been hospitalized at the Bravis Hospital in Bergen op Zoom, The Netherlands, after falling off a horse on Sunday 14 January 2018. 
The 24-year old was transported by ambulance to the clinic, where they did not diagnose any fractures, but she had to stay overnight because of back pain and a loss of sensation in her left leg. 
"I came out of bed today for a while and moved with a zimmer frame, but I still have lots of pain in my lower back, bum and I feel little in my left leg," said Kooijman. 
A CT-scan has been scheduled for this afternoon and based on those results she might be released to go home. 
Kooijman was member of the Dutch team that competed at the 2016 European Under 25 Championships. She won team silver and finished fifth in the Kur to Music finals. In 2017 she sold her top horse Winston to Grecian junior rider Theodora Livanos. 
Stephanie's number one horse at the moment is the 10-year KWPN bred Dibert L (by Vivaldi x Balzflug).
Photo © Astrid Appels
Related Links
Stephanie Kooijman's Winston Sold
Sanneke Rothenberger Makes it a Triple at 2016 European Under 25 Championships
Kooijman and Van Baalen Win 2015 Dutch Indoor Dressage Championships
Stephanie Kooijman Goes Independent