KWPN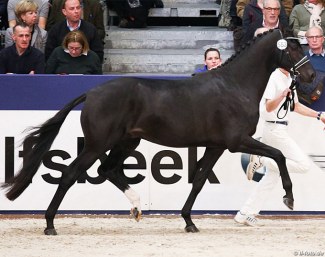 Twenty-eight dressage bred colts have been accepted for the stallion performance testing after the first day of dressage selection at the 2018 KWPN Stallion Licensing in 's Hertogenbosch, The Netherlands, on Friday 2 February 2018. 
On the first dressage day of the third phase the KWPN licensing committee selected 28 colts for the testing, which is mandatory for each accepted colt before he can officially obtain the status of "licensed stallion". Four stallions have been invited to the Champion's ring, aka premium ring, from which the licensing champion will be picked on Saturday 3 February 2018.
"We are very pleased with our crop today. The movement mechanism and self carriage of many of the accepted stallions stood out very positively and we also accepted a couple of stallions who can help with bloodline diversity," said Bert Rutten, chair of the KWPN Stallion Licensing committee. "Bloodline diversity is a hot issue at the moment and that is why we accepted stallions who are not very familiar with KWPN when it comes to DNA.
The best producing sire of the moment was Governor (by Totilas x Jazz x Ulft). Of his nine presented sons, four were accepted for the testing and one of them will return tomorrow in the champion's ring (Kremlin MD, by Governor x Rousseau).
"The Governor offspring different in conformation, but they all had good self carriage and a way of moving," Rutten explained. "We are happy that four of his sons will get the change to prove themselves in the test. This is a crucial part of the KWPN Stallion Selection, so that we can select closest to our sport goal. It will give us much information."
The licensing continues on Saturday with the second day of the third phase for dressage stallions. In the afternoon the licensing champion will be picked from the premium ring.
Photo © LL-foto
The four premium stallions are
Kremlin MD (by Governor x Rousseau)
Kaiman (by Dark Pleasure x Gribaldi)
Kevin (by Dream Boy x Kennedy)
Kenzo (by Ferguson x Vivaldi).
The other accepted colts are:
n.n. (by Ampere x Florestan)
Killimanjaro (by Bordeaux x Westpoint)
Kenzo (by Bordeaux x Johnson)
King Size (by Charmeur x Gribaldi)
Kensington (by Dante Weltino x Vivaldi)
Knappe Jonge (by Ferguson x Jazz)
King Schufro (by Don Schufro x Jazz)
King U.S. (by For Gribaldi x Flemmingh)
Kandour (by For Romance x Uphill)
Kwiek S (by Giovanni x Rhodium)
Kwadraat Prins (by Gotcha Utopia x Winningmood)
Kayne (by Governor x Rousseau)
King VE (by Governor x Johnson)
Kaylens's Boy (by Governor x Krack C)
Kratos de Jeu (by Ekwador x Voice)
Kibo (by Jazz x Totilas)
n.n. (by Millennium x Florestan)
Rock for my Heart (by Rock for Me x De Niro)
n.n. (by San Amour x Zardin Firfod)
n.n. (by Sir Donnerhall x De Niro)
Koblenz (by Valdez x Welt Hit II)
Kyton Platinum (by Ferguson x Ferro)
Furst Diamond (by Furst Fohlenhof x Lissaro van de Helle)
Woodlander Woodstock (by Wild Child x Florencio)
Related Links
Governor, Top Producer for 2018 KWPN Stallion Licensing Pre-Selection Days
Jameson, Champion of the 2017 KWPN Stallion Licensing 
Igor (Indian Rock), Champion of the 2016 KWPN Stallion Licensing 
Handsome O, Champion of the 2015 KWPN Stallion Licensing
Glamourdale, Champion of the 2014 KWPN Stallion Licensing
Fierce S (Franklin), Champion of the 2013 KWPN Stallion Licensing
Etoine, Champion of the 2012 KWPN Stallion Licensing
Diebrecht, Champion of the 2011 KWPN Stallion Licensing
Cover Story, Champion of the 2010 KWPN Stallion Licensing
Bordeaux, Champion of the 2009 KWPN Stallion Licensing
Ajong (aka Ampere), Champion of the 2008 KWPN Stallion Licensing
Zagreb (aka Blue Hors Zack), Champion of the 2007 KWPN Stallion Licensing 
Wamberto, Champion of the 2006 KWPN Stallion Licensing
Johnson, Champion of the 2005 KWPN Stallion Licensing
Ustinov and Uptown, 2004 KWPN Stallion Licensing Champions
Tornado, Champion of the 2003 KWPN Stallion Licensing
Symfonie, 2002 KWPN Licensing Champion
First KWPN Select Sale at 2001 KWPN Stallion Licensing
Paddo, 2000 KWPN Stallion Licensing Champion