Hanoverian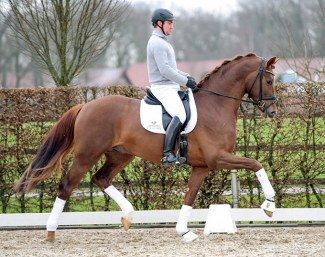 For the upcoming breeding season the Dressage Performance Center Lodbergen has extended its high quality string of stallions with a very valuable young stallion: La Vie. The liver chestnut Hanoverian excites with his majestic appearance, his distinctive habit and his gravity-defying movement. Furthermore his genetics make him a perfect addition to the DLZ-squad. 
La Vie will be joining the double champion stallion and Burg-Pokal finalist For Romance I OLD, the champion stallion and the state champion Follow Me OLD and the acting federal and state champion Finest Selection amongst others.
La Vie's sire is the liver chestnut Livaldon, who has a very interesting pedigree including Vivaldi, Donnerhall and Eiger II and he made a name for himself as double stallion performance test winner, qualifier for the German Championships and he was already placed at St. Georges dressage competitions at only the age of seven. Livaldon has several licensed sons, premium stallions, premium mares and successful riding horses only from his first two crops.
La Vie's dam's sire Scolari, who was trained up to the advanced level classes, sired many successful horses, among them the dressage horse world champion Scara Boa, the Burg-Pokal qualifier ZINQ Sweetheart FH, as well as the Hanoverian reserve winner mare Serafina. Wolkenstein II, Ritual and Dominik add to this pedigree, which is filled with some of the greatest stallions of the Hanoverian breeding history.
"We are very happy being able to offer our breeders La Vie, a young stallion who, due to his perspective in the sport and his pedigree, fits perfectly into our lot of stallions", said the head of DLZ, Wolfgang Stagge, happy to have found this new arrival at the Hanoverian late licensing in Verden.
Visitors and horse friends can let themselves be convinced of La Vie's exceptional position at the Stallion Show on Friday 16 February 2018 at 7 pm (19:00) at the Oldenburg Horse Center in Vechta, which is presented by the DLZ in collaboration with the stud Bonhomme and the stud Nymphenburg. However there only standing room tickets left.
For further information, please visit www.dressurleistungszentrum.de
Related Links
2017 Lodbergen Winter Breeders' Meeting Cancelled
For Romance I OLD Offspring Set the Standard at 7th Lodbergen Foal Championship
Frascino Offspring Convinces Judges at 2017 Oldenburg Foal Inspection in Lodbergen
Full House and Great Atmosphere at 2017 Lodbergen Spring Breeders' Meeting
Packed, High Quality Field at 2017 Oldenburg Foal Inspection in Lodbergen