Bits 'n Pieces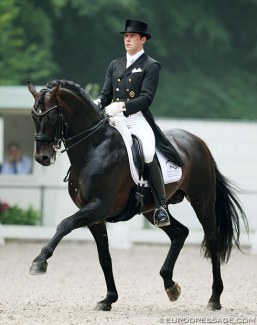 German professional dressage rider Steffen Frahm is on the move again. St. Georg reported that he has been hired part-time as an assistant trainer at the Westfalian headquarters in Munster-Handorf. Frahm made his first claim to fame as a "bereiter" at Jens Meyer's stallion station in Dorum where he took Damsey FRH to international Grand Prix level. He then moved to Hof Kasselmann to replace Borja Carrascosa and got to compete Bluetooth at the 2014 World Young Horse Championships. Then he hopped across the street to Holga Finken's stable and now he's 30 minutes away working in Munster.
The Danish owned 14-year old former Hanoverian licensed stallion Hoftanz (by His Highness x Rotspon) has been sold to Bridget Flynn Walker from San Francisco, California. The black gelding was advertised for sale on Eurodressage and it only took one week for the Grand Prix schoolmaster to find a new home. Walker trains with Lientje Schueler. 
Former Spanish Under 25 rider Laura Reija Belart has acquired the 5-year old Dutch warmblood licensed stallion Imagine (by Chippendale x Jazz x Vincent) from Mark den Teuling. Reija is based in The Netherlands and trains with Coby van Baalen. Her assistant trainer, Spanish Moises Jover Azuar, will continue training the black stallion for a while.
Dutch FEI rider Ilse van Cranenbroek has sold her 10-year old KWPN bred Dazzling W (by Jazz x Rubinstein) to an amateur dressage rider in Florida. The liver chestnut gelding won the Brabant regional indoor championships at fourth level and has been competed at Prix St Georges level. Van Cranenbroek has owned Dazzling for only half a year.
British list 5 judge Brigit Powell has passed away at the age of 84. Brigit was a dedicated judge, writer and horse owner, as well as being a profound supporter of the sport. Brigit was a co-owner of the highly successful Chagall, also owned and ridden by Isobel Wessels. Isobel first met Brigit when she was taking a judges' course in Cornwall, this led to Brigit expressing an interest in buying a horse with her – the result of this was a co-ownership of Isobel's Grand Prix horse Chagall.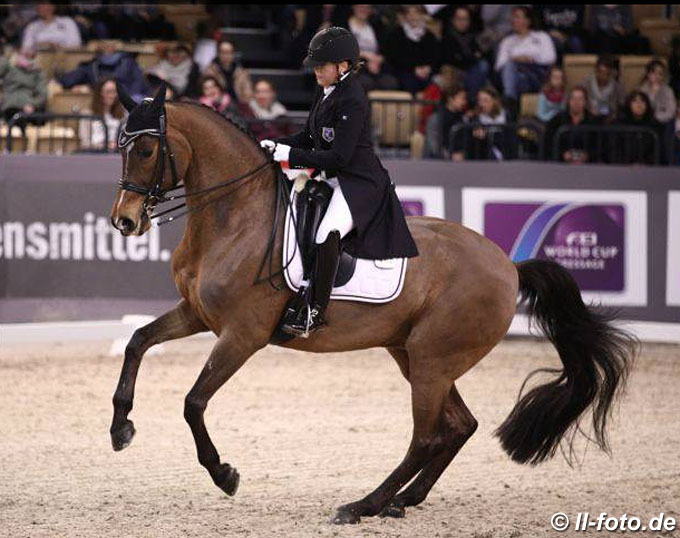 Upon returning home from the CDI-W Neumunster, Charlotte Haid-Bondergaard's lorry caught fire on the road. Charlotte's husband Rasmus was driving the lorry when suddenly the fire alarm went off. They pulled over and noticed that fire has broken out in the hydraulics system below the horse compartment. Oil was spilling out from the bottom of the truck. The fire brigade came to the spot and extinguished the fire with sand and water. The horses never even noticed a thing. Their truck company immediately came to the scene to solve the problem and Haid's horses have returned home safe and sound.
Danish FEI dressage pony Gee Gee has been sold to the Danish pony rider Frederikke Gram Jacobsen. The last 8 months Gee Gee was loaned out to Frederikke Gram Jacobsen and her family has now decided to purchase the internationally competed pony (under Michael Navrstedt). .Frederikke can compete Gee Gee for the next 2 years. The last 8 months the pair has already achieved several good results in Denmark. 
De Hoefslag reported that Dutch national Grand Prix rider Elise Kettner has sold her 15-year old Grand Prix horse Floyd (by Fielmann x Michelangelo) as a schoolmaster to a 20-year old Egyptian student of Anky van Grunsven. For 10 years Kettner was trained by Tineke Bartels, but the rider switched to Anky one month ago. Kettner will continue her career on the 13-year old Romando (by Romanov), which she has shown at two CDI's at small tour level in 2016.
At the 2018 Trakehner Stallion Approval held in Munster-Handorf on 10 February 2018, not a single one of the five entered stallions was approved for Trakehner breeding. Five stallions were entered, but the fifth one, successful tobino racing horse Silvery Moon xx, was scratched after he injured himself in the box the night before. The other four presented stallions that were rejected were: Konvent (by Millennium x K2), Assuan (by Phlox x Altgold), Tanzgold (by Schwarzgold x Caprimond) and Pac Man (by Rheinklang x Latimer).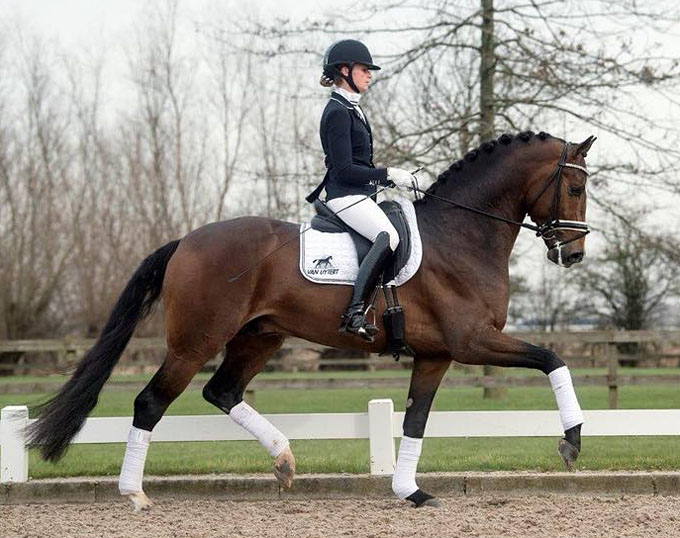 After the sale of 5-year old Oldenburg stallion Total U.S. (by Totilas x Sir Donnerhall) to Glock, Dutch stallion owner Joop van Uytert made a new deal with German stallion owner Paul Schockemohle and got a new young colt to The Netherlands: the 4-year old Hanoverian registered Deparon U.S. (by Deveraux x Londonderry x  Rotspon). Under Julia Watzek, the bay stallion was the reserve champion at the 2017 Hanoverian Young Horse Championships. At the 2017 Bundeschampionate he was fourth under Isabel Freese. 
The British Equestrian Federation (BEF) announced the appointment of Nick Fellows as its new Chief Executive. Currently the Chief Executive of Clay Pigeon Shooting Association (CPSA), Nick brings a wealth of experience and knowledge of Olympic and community sport, having worked with British Shooting; the British Olympic Association, as head of the Olympic Medical Institute; and as Interim Director for Bucks and Milton Keynes County Sports Partnership. He has also worked in media as a manager for Newsquest Media Group and as a Director of National Sports Medicine Institute (NSMI). Nick will join the BEF on 26 March 2018, taking over from current Interim Chief Executive Nicki Kavanagh, and Interim Chief.
UVEX, one of the world's leading manufactuer of equestrian (and ski) helmets, announced that its managing director and CFO Falk Pewestorf has handed in his resignation with immediate effect. The Uvex Group's Managing Director/CEO of Marketing and Sales, Christophe Weissenberger, together with the support of Georg Höfler, Uvex' Winter Holding, will take on Mr. Pewestrof's duties until a successor is appointed.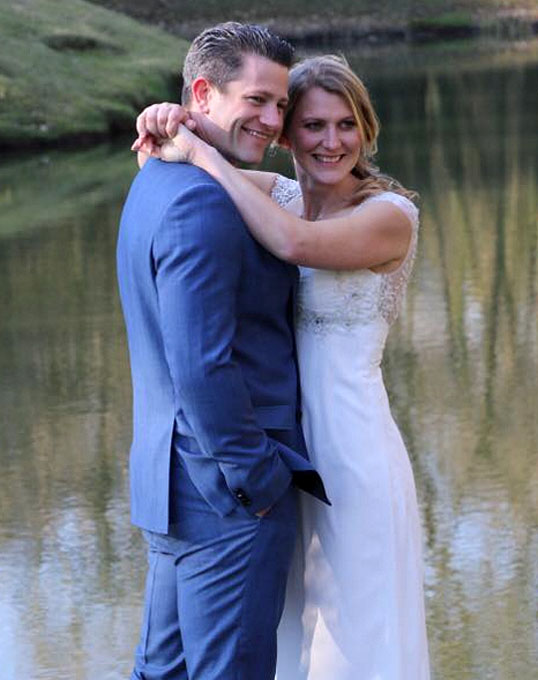 British Grand Prix rider Hayley Watson-Greaves married her partner of 18 years, Paul Logan, on the weekend of 24 - 25 February 2018. "Amazing day, weather was beautiful, Squeak (Rubin's Nite) was here with us in statue form created by my mum," Hayley announced on her Facebook page.
Amanda Shoobridge of Revelwood stud has acquired the 18-year old  Oldenburg licensing champion Stedinger (by Sandro Hit x Landadel x Futuro). The dark bay stallion already moved to Australia in 2013 as a lease stallion and Amanda has now assured that he will not return back to Germany but purchasing full ownership from Gerd Sosath. Stedinger ranked 8th on the 2017 WBFSH Dressage Sire Ranking.
Dutch FEI rider Kim Thijssen had to euthanize her small tour horse Obama on 24 February 2018 following a freak accident. During a training session, the horse fractured its leg and could not be saved. The 13-year old Dutch warmblood was originally named Amoor and was purchased by Thijssen as a 3-year old at the 2008 Equine Elite Auction for an auction price of 110,000 euro. He was by OO Seven out of Serendy (by Jazz x Ulft) and a full brother to the Swedish Grand Prix team horse Zuidenwind and Krista Kolijn's medium tour horse Wish.