Health Care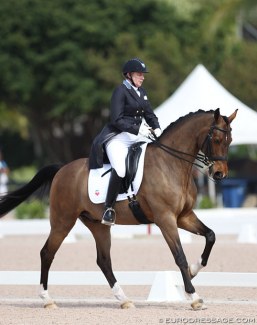 Margaret Duprey a long-time sponsor of U.S. Grand Prix rider Todd Flettrich and an avid adult amateur competitor in her own right, has donated 1 million dollar for a new veterinary education center at Wilson College in Chambersburg, PA, U.S.A.
With other major gifts for the center from two Wilson alumnae (Susan Breakefield Fulton and the late Eleanor Martin Allen), Duprey's gift brings the total raised for the new veterinary facility to $2,075,000. The total estimated cost of the project is $2.8 million. 
The veterinary center—which houses surgery suites, skill labs, dog kennels, offices and other spaces—is a hub for students in Wilson's four-year veterinary medical technology (VMT) program, one of the college's most popular majors. Duprey joined the Wilson College Board of Trustees in the autumn of 2017. 
Owner of Cherry Knoll Farm, Margaret Duprey is a founding member of the U.S. Dressage High Performance Owners' Task Force. As a rider she has been competing Emir, Flashback, Mojito, and Ehrendorf in the national show ring in the U.S.A.
Duprey's interest in high performance equestrian sport crosses borders. Alongside owning several top dressage horses, she is also the owner of show jumpers Cedric (who won a gold medal at the 2008 Beijing Olympics) and Andretti S, as well as and Schroeter's Romani, Rebecca Hart's 2016 Rio Paralympics mount. 
At Cherry Knoll farm, Duprey also breeds Black Angus cattle.
Photo © Astrid Appels
Related Links
Debutants Rule Nationals Shows in Ankum, Kronenberg, Ebreichsdorf
Rising Grand Prix Horse Revolverheld Acquired for Todd Flettrich
American Grand Prix Horses Otto and Sagacious to Be Retired
U.S. Dressage High Performance Owners' Task Force Appointed