Products
Italian Grand Prix rider Silvia Rizzo has added yet another equestrian fashion supplier, Sarm Hippique, to her long list of sponsors. Sarm Hippique signed Rizzo as its brand ambassador, matching their Italian craftsmanship to her radiant image in the international dressage arena.
The Italian brand Sarm Hippique prides itself in elegance, style, technology and attention to detail. The company has become a premier brand in the international equestrian community, known for its hand tailored design and quality of its jackets, shirts, competition polos, and breeches.
"Sarm Hippique considers the choice of high quality raw materials an absolute must," said the founder of the Chieve based company near Milan.  "We create unique products with high quality performance features, which is a goal shared by many companies, but ultimately hard to achieve. We made this brave choice, but feel very rewarded as our customers recognize the difference between Sarm Hippique and other brands."
With roots in Milan and recognized in the dressage world as a fashion-forward athlete always trying out the latest styles in jackets and breeches, Silvia Rizzo is beloved by the crowds. Aboard her Lusitano Grand Prix stallion Sal, Rizzo draws attention as she presents a very positive image of the sport through her smile, fun-loving attitude, and with her massive fan base. With 358,000 followers on Facebook, Rizzo has built up the largest social media community of any international dressage rider!
"I'm very proud and honoured that Sarm Hippique has chosen to sign me as their brand ambassador," Rizzo explained. "As soon as I learnt about the company's sense of style and their attention to detail, I knew they were the right fashion partners for me. They are innovative, bold, and set the highest standard when it comes to fit, tailoring, and fabrics. They are also dear to me as they support Atleti Speciali."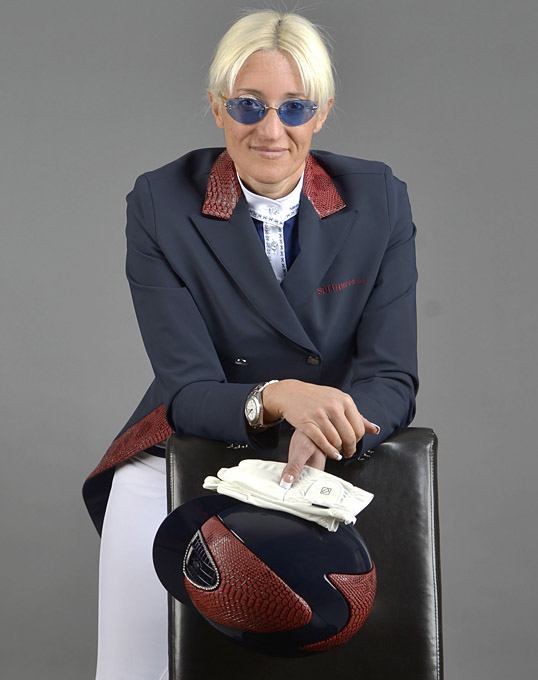 Sarm Hippique and Rizzo are collaborating on a special series of limited edition jackets, which will be numbered. Part of the proceeds will be donated to a special paralympic support programme in Italy called "Atleti Speciali," founded by Ferdinando Acerbi, a Paralympic rider who is now team manager of the Italian Para Dressage Team. Through crowd-funding and sponsorship the association supports and promote disabled sport activities in Italy. It aims to give the Paralympic movement greater visibility by scouting and supporting ambitious, disabled athletes.
Rizzo is proud that Sarm Hippique has chosen to back Atleti Speciali as she is particularly involved with Paralympic dressage through her life partner Michele Betti, who was recently appointed Italy's Paralympic Technical Advisor and assistant team trainer by the Italian Equestrian Federation (FISE). 
Silvia provides style consultancy on tailoring and choice for your Sarm Hippique breeches, jackets and shirts. You can contact Silvia Rizzo directly for style advice, special offers and deliveries. Rizzo has a second collection of her own, colourful polo shirt brand "Stylish Rider".
Rizzo is sponsored by Sarm Hippique, Stivaleria Secchiari, Selleria Gianetti, De Riso Couture, KEP italia, Lisa Wallace's Dressage Sport Boot, MDC Stirrups, Judi Manche, SSG Gloves and Champion Performance.
For more information, visit www.sarmhippique.it of www.hofmarabunta.com
Related Links
KEP Italia's Style Consultant Silvia Rizzo Supports 2017 International Helmet Awareness Day
Silvia Rizzo Ready for 2016 CDI Samorin With Three New Sponsors Backing Her Up
Silvia Rizzo Adds BMW Horse Power to her Stable Thanks to BMW Helming & Sohn
Silvia Rizzo Gets Nod of Appreciation from Fashion King Valentino at 2015 CDI Doha