Oldenburg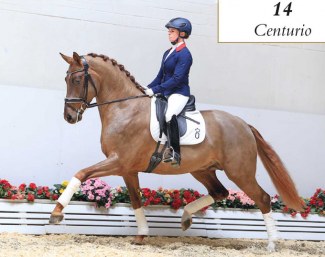 The 88th Oldenburg Spring Elite Auction will be held at the Oldenburg Horse Center Vechta on Saturday, April 7th. Around 45 first class sport horses for dressage and show jumping will be waiting for you. Also included are licensed stallions, Champion Mares, schooled sport masters and talented youngsters. The carefully selected collection has something that should please every rider.
The horses are in training and can be tried out by interested parties. Make an appointment so that you can get to know your dream horse personally. From three-year old youngsters all the way to talented and successful sport horses, this collection leaves nothing to be desired. Among these is the strong moving French Boy (by Franziskus - Chico's Boy - Argentinus), Cat. No. 4/63. This four-year old stallion is also a candidate at the 7th Oldenburg Saddle Licensing. This a dressage horse predestined for big-time dressage rings all over the world.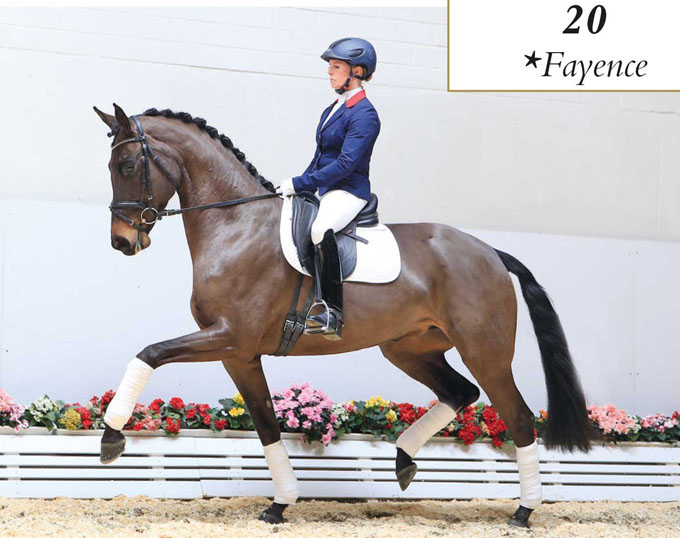 Another offspring of the successful Grand Prix stallion Franziskus is the gorgeous Fayence (by Franziskus - Dacaprio - Feinbrand), Cat. No. 20 – an especially sparkling jewel. This prima ballerina assoluta has exactly what it takes to follow in the footsteps of her famous sire.
A son of the World Cup finalist, Cennin, ridden by Madeleine Witte-Vrees, also holds the promise of Grand Prix. Centurio (by Cennin - Florencio I - De Niro), Cat. No. 14 is a movement genius ready to compete right away. This four-year old is already decorated with ribbons from tests for young riding horses.
A dancer with a very special aura is Cat. No. 29, Bippen Woods (by Bretton Woods - Al Martino - Bordeaux II). This modern, six-year old diamond is already well schooled and can start right away in 3rd level classes. His dam Laura is a sister of the licensed stallion Royal Empire (by Rubin Royal OLD).
In the Spring Auction Collection on April 7th are also some of the brilliant stallions of the Oldenburg Saddle Licensing. Have a look and secure your future sire star. Watch the Saddle Licensing on Thursday, 5th, live on our website www.oldenburger-pferde.com.
You still have the opportunity to observe the horses you have picked out during training and try them out until April 5th. To do so, get in touch with our consulting and customer service team.
Official times for training and trying out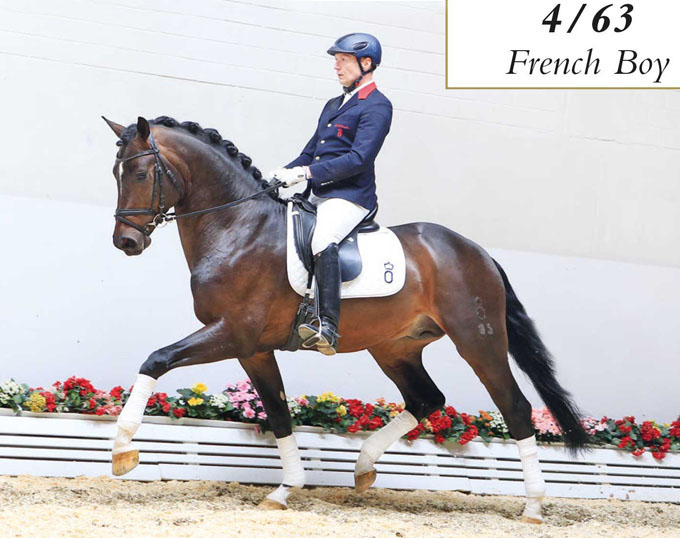 As of Thursday, March 15th to Thursday, April 5th 10:00 a.m. - 1:00 p.m. jumper team 2:00 p.m. - 4:00 p.m. dressage team
All Sundays are days of rest in the stables.
Special presentation of the dressage horses: Wednesday, April 4th - 6:00 p.m.: Evening Show – on this day, the horses may not be tried out –
You'll find an overview of the entire collection on the Internet at the Oldenburg website in the auction area www.oldenburger-pferde.com or to go there directly, click here.
Click here to see a trailer of the riding horse collection.
Consulting and Customer Service:
Dressage horses:
Show jumpers:
Information/Catalogues:
Photos © Tammo Ernst
Stallions of the 7th Oldenburg Saddle Licensing, who will be offered for sale at the 2018 Oldenburg Spring Elite Auction