Germany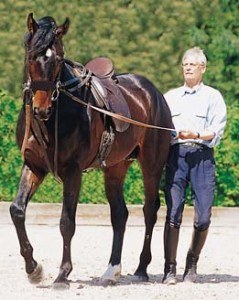 The legendary dressage trainer Fritz Stahlecker has passed away on 2 March 2018 at age 92.
Stahlecker became known for his "hand-saddle-hand" method, which was based on the philosophy that horses could be trained in hand and that this training later would translate to the saddle. Stahlecker was known for working with the horses, not against them. The most recent developments in the sport of dressage were a great concern to him and he disapproved of any form of violence or hardness against a horse.
Stahlecker was the inventor of several bits, which were intended to be soft and force free and for a better communication between horse and man.
Stahlecker was key in the training of Sven Rothenberger's 1996 Olympic team silver and individual bronze medal winning horse Weyden
Fritz had an interest in culture that expanded the horse world and was deeply devoted to art and literature. His grand daughter Alexandra Stadelmayer is an international Grand Prix competitor.
Just as her mom Ulrike sold Weyden to Sven Rothenberger, so did she sell her first GP horse Lord Lichtenstein to Thailand as a schoolmaster. Other top horses from Stahlecker's stable are Palladio (Daniel Ramseier), Corinth (Marcela Krinke) and Watteau (Friederike Hahn).
He would have turned 93 on 22 March 2018.
Related Links
Stahlecker's Legacy: Alexandra Stadelmayer
Jonggor's Weyden Passed Away
Jonggor's Weyden Retired From Competition
An outstanding Satchmo Delights a Full House at the 2010 CDI Stuttgart