Canada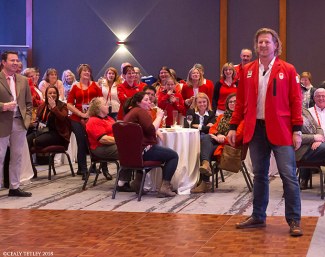 Canadian Cycling Olympian Curt Harnett delivered a powerful keynote address at the Red & White Social Event held during the 2018 Equestrian Canada Convention, speaking to the power of sport and encouraging equestrians to come together as a community for the 2018 World Equestrian Games.
Day one of the 2018 EC Convention  in Ottawa, ON concluded on Friday 6 April 2018 with the Red & White Social Event in support of the CET's journey to the 2018 World Equestrian Games (WEG). Four-time Canadian Olympian, Curt Harnett provided a rousing and entertaining keynote address. He spoke to the power of sport and how his innate passion for cycling carried him through the highs and lows of his cycling career, culminating in his bronze medal performance at the 1996 Atlanta Olympics.
"What I learned on July 27, 1996 was the power of sport," said Harnett during a keynote address that took the delegates through a full spectrum of emotion, from tears of laughter to misty-eyed inspiration. "That's why you're here, because of that same unbridled passion. And, you all share it for the same thing - the horse… Something that looked at you funny one day and made you fall in love. You tweaked its nose, it looked at you sideways and showed you its teeth, but that's why you're here. Harnessing that power, that drive, that love, is the tricky part. And that is where the magic happens."
Harnett's inspiring story concluded with a call to the Canadian equestrian community to come together as a unified force in advance of WEG 2018. And that community is one that is close to Harnett's heart. As the husband of EC Dressage Committee Chair, Victoria Winter, Harnett has spent plenty of time within the horse world.
"You are all custodians of your sport and you are blessed with the opportunity to make it the best sport in Canada," said Harnett. "We all have a passion for the horse and the opportunity starts here. We have Tryon later this year, an event that happens every four years that brings the equestrian community together. I encourage you to begin today to support those athletes who will be donning the maple leaf in your honour mid-September in North Carolina.
Harnett continued, "When we look for ways to support our teams, we always want to look outside our sport. We're always looking to say, 'Why doesn't somebody sponsor us?' when, ultimately, the only way to build up your organization is from the inside. It's a simple challenge and a simple opportunity and you have everything you need to make it happen."
Phtoo © Cealy Tetley
Related Links
2018 World Equestrian Games - Table of Contents
Tryon Laying Good Foundations for 2018 World Equestrian Games
Page and Holzer Clean Up the Big Tour at 2017 CDI Tryon