Australia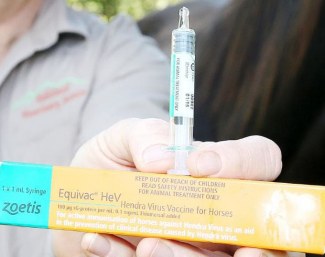 The Australian Equestrian Federation (EA) announced today that it has ended the sponsorship contract with immediate effect after major complaints from EA Members. EA signed a major partnership agreement with Zoetis, which they made public on 28 March 2018.
"Equestrian Australia is a service organisation for our sport, our shareholders and our members," it read in a very short press release today. "In response to feedback from members, EA and Zoetis have mutually agreed to end the sponsorship agreement with immediate effect."
EA - Zoetis Partnership
On 28 March, however, EA was very proud to herald the sponsorship, stating: "As the world's largest producer of medicines and vaccinations for pets and livestock, this partnership highlights EA's ongoing commitment to horse welfare, ensuring that "the love of the horse" remains central to everything."
The promotion for Zoetis continued in that same release: "Zoetis provides a range of equine vaccines, de-wormers and painkillers that both veterinarians and horse owners know and trust for helping horses live longer, healthier, happier lives. The partnership will focus on awareness that prevention is better than cure for both horse and owner. It will incorporate the thoughts and opinions of leading researchers and vets as they offer insights into the most common and easy to avoid viruses as well as offering up to date information and evidence-based statistics."
EA CEO Paula Ward said, "As we continue our focus on the welfare of both horse and rider, this partnership with Zoetis fits firmly in line with our vision and strategy regarding the love of the horse. A global leader in medicinal products, Zoetis and EA will be working closely together on a variety of informational campaigns. 
Clas Action Against Zoetis over Hendra Vaccination
A barrage of complaints from EA members was sent to the federation, attacking the major conflict of interest as well as pin pointing the class action suit against Zoetis.  EA members and state branches were not aware of this EA's partnership with Zoetis until it was announced. 
Members raised considerable concern due to the ethics of the partnership in lieu of the recent $53 million class action against Zoetis due to equine reactions and deaths after vaccinations of the Zoetis Hendra Vaccination. Half a million doses have been administered to horses across Australia since 2012 and about 1,500 horses have experienced adverse reactions and have not been able to return to their regular work.
Lawyer John Rowe said Zoetis failed to inform horse owners of the potential side effects and have breached the Agricultural and Veterinary Chemicals Act by failing to properly trial and test the vaccine before its release.
The Hendra virus has killed 103 horses and four people across 60 separate outbreaks in QLD and NSW.
Related Links
Hendra: The Virus, The Vaccine, The Debate
Equestrian Australia Postpone Decisions on Hendra Vaccination and Biosecurity Policy
Equestrian Australia Revokes Hendra By-Law
Equestrian Australia Gives Update on Hendra Vaccination and Biosecurity Policies
Equestrian Australia Welcomes Release of Vaccine for Hendra Virus