Kathmann Final Sale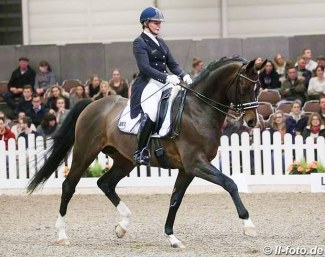 The internationally Grand Prix level competed gelding Furstenglanz became the price highlight of the Kathmann Final Sale on 22 April 2018. 
The Kathmann Final Sale was a clearance sale, which Lutz and Julia Kathmann organized as they have decided to end the operations of Kathmann dressage horses.  After the sale of the equestrian facility in Holtrup in November 2017, Dressurpferde Ludwig Kathmann KG now sold its entire horse stock. 
Kathmann Station was founded in 1938 and in the 1970s and 1980s is was one of the leading dressage breeding barns in Germany. Martin Determann took over the stallion station part less than a decade ago, while Lutz Kathmann continued the dressage barn. 
At the final sale, the 12-year old formerly licensed Furstenglanz (by Furstenreich) became the top seller. Anna Fuchs, a student of Dorothee Schneider, paid 136,000 euro for the bay gelding. 
The second most expensive horse was Daiquiro Royal (by Danciano x Furstenball) which sold to Belgium for 42,000 euro. 
The third most expensive horse was a 4-year old For Romance x Lord Loxley offspring, which also sold to Belgium for 34,000 euro. 
A collection of 25 horses, mainly youngsters, sold at auction. It totaled a turn over of approximately 360,000 euro.
"It is done. The Kathmann Final Sale is history and all our horses have found new owners," said Julia Kathmann (née Wentscher) after the auction. "Most stay in Germany, the chestnuts Faber and Sir Giorgi travel to Sweden, For Paulo and Milestone found a new home in Austria, Gandria is in Russian ownership and three horses got Belgian owners. We are particularly pleased that our Furstenglanz will continue his Grand Prix career with wonderful horse people from South Germany. For us a big chapter in an 80-year old family history has come to a close."
Source: Zuchterforum - Photo © LL-foto
Related Links
Grand Prix Horse Furstenglanz Included in Kathmann Final Sale
Kathmann Final Horse Stock Sale on 22 April 2018
Hof Kathmann Sold, Business Continues as Usual