Finland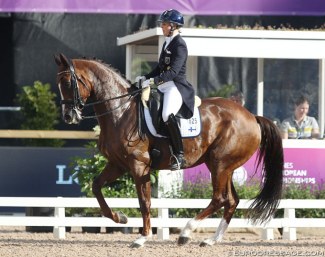 For Finnish Grand Prix rider Terhi Stegars the past two years have been filled with surprising twists and turns in her professional dressage career. Joyful bliss for the birth of her first baby in January 2017 was combined with the tragic loss of her number on Grand Prix horse Axis TSF and a fractured shoulder. Stegars, however, is now back in full swing and looking to expand her business. 
"I am returning back to full time work in May after maternity leave and recovering from my broken shoulder," said Terhi. "During the last one and a half years I have deliberately reduced the number of clients I have taken on and focused on my young son, the horses of my sponsor and training the team at my home stables."
Stegars has been based at the Kayser family's "A Bis Grand Prix" dressage yard in Luxembourg for eight years and she has mainly focused on riding her sponsor's horses. After some reorganization in the barn, room has been created for Terhi to further develop her business there and begin the next chapter in her dressage career. 
"I am now looking to expand the stables again, focusing on a small number of high quality horses aiming at top level competitions," she stated.  "I am exploring options to return to high level competitions and ideally I would like to take on two to three horses that I would train personally and take to competitions."
Supported by her two excellent assistant trainers Minna Uronen and Marco Ulrich and with committed staff in place at A Bis Grand Prix, Terhi has created the perfect set-up for dedicated training and care of young horses on their way to Grand Prix.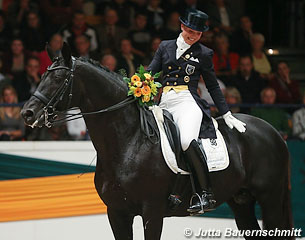 "Marco and Minna have both done the German Bereiter test and are riding successfully at Prix St. Georges-Intermediaire I level. With them by my side, I can also take in high quality youngsters as they would ride the youngsters under my constant coaching," Terhi explained. 
The 43-year old Stegars is Finland's most successful Grand Prix rider of the moment.  Known for her classical riding style and training according to the principles of the riding scale, Terhi showcased her skill and expertise on the Trakehner stallion Axis TSF. The pair represented Finland at the 2011 and 2015 European Dressage Championships, the 2013, 2015 and 2016 World Cup Finals and at the 2014 World Equestrian Games. Terhi is currently competing Thai Pee  at international Grand Prix level. They represented Finland at the 2017 European Dressage Championships in Gothenburg.
For more information about Terhi Stegars, visit www.stegars.de or Terhi's Facebook page.
Photos © Astrid Appels - Jutta Bauernschmitt
Related Links
Terhi Stegars on the Road to Recovery
Terhi Stegars' Axis TSF Passed Away
Terhi Stegars Gaves Birth to Baby Boy
Terhi Stegars Completes 2016 World Cup Finals' Line-Up
Photo Report: Terhi Stegars Bags First World Cup Victory at 2016 CDI-W Brno
Stegars and Axis Reach New Heights at 2015 CDI-W Amsterdam and Neumunster
Terhi Stegars and Tanja Kayser Acquire Axis TSF
Finnish Terhi Stegars Relocates to Luxembourg