2018 Bundeschampionate Qualifier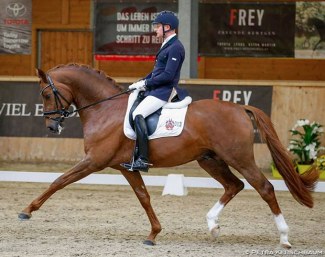 The 5-year old Destacado and the 6-year old Cafe's Casimir became the winners of the Bundeschampionate qualifier held at Brodhecker's Burghof equestrian centre in Riedstadt-Wolfskehlen on 12 and 13 May 2018.
Matthias Rath steered his stepmom Ann Kathrin Linsenhoff's Hanoverian licensed stallion Destacado (by Desperados x Londonderry) to victory in the 5-year old division with a strong 8.9 total score. The chestnut stallion earned 9 for trot, 9.5 for walk, 8.5 for canter and submission and 9 for general impression. One day after competing Westhoff's Oldenburg mare first Lady (by Foundation x Breitling W) at the Bundeschampionate qualifier in Frankenthal, Hendrik Lochthowe trailer the mare to Wolfskehlen in a second attempt to qualify the mare. He succeeded as he scored 8.4 in total. The mare got 8 for walk, and 8.5 for trot, canter, submission and general impression. 
In the 6-year old division on Sunday 13 May, Belgian Carl Cuypers steered Marco Müller's Oldenburg jumper stallion Cafe's Casimir (by Cafe au Lait x Calido) to victory with an 8.1 score. The dark bay stallion got 8 for walk, 8.5 for trot, 7.5 for canter, 8 for submission and 8.5 for general impression. Müller acquired Cafe's Casimir at the 2017 Oldenburg Autumn Elite Auction for 125,000 euro. Michele Schulmerig and Frank Rühl's Oldenburg gelding Borsalino (by Bordeaux x Weltmeyer) were the runners-up with 8.0. The chestnut got 7 for walk, 9 for trot, 7.5 for canter, 8.5 for submission and 8 for general impression. 
Photo © Petra Kerschbaum
Results - 2018 Bundeschampionate qualifier - Wolfskehlen
5-year olds
1 Destacado (by Desperados x Londonderry) - Rath,Matthias Alexander - 8.90
2 First Lady (by  Foundation x Breitling W)  ) - Lochthowe,Hendrik - 8.40
3 Feuertanz (by Foundation x Breitling W) - Rath,Matthias Alexander  - 8.20
4 Tocanto (by Totilas x Canturo) - Mayer,Catherine - 8.10
5 Don Kiaron (by Don Schufro x Johnson) - Steigauf,Björn -  7.90
6 Big Love (by Bretton Woods x Fidermark) - Mayer,Catherine - 7.80
7 Snowman FS (by San Amour x Donnerruf) - Koch,Lisa Marie - 7.60
8 Qui'Well (by Quaterhall x Abanos ) - Helmling,Bianca - 7.50
8 Fairytale (by Franziskus x Santa Cruz) - Lingelbach,Marc -  7.50
10 San Aurelio (by San Amour x Fürst Heinrich) - Pfeiffer,Kim - 7.40
11 Fürst Furioso (by Bretton Woods x Fürst Heinrich) - Kiaer,Alexander von - 7.30
12 De Sandro (by Decurio x Samba Hit) - Stuppert,Philipp - 7.20
13 Rock For Romance (by Rock Forever x Sandro Hit) - Büdenbender,Maike - 7.10
13 Doolin (by Damon Hill x Loutano) - Kühn,Julia - 7.10
6-year olds
1. Cafe's Casimir (by Cafe au lait x Calido) - Cuypers,Carl - 8.10
2. Borsalino (by Bordeaux x Weltmeyer) - Schulmerig,Michele - 8.00
2. Baryshnikov (by Bretton Woods x  Weltmeyer) - Mayer,Catherine - 8.00
4. Rock Emilion (by Rock Forever x  Sandro Hit) - Ley,Marisa -  7.80
5. Fürst Rubin (by Fürst Romancier x  Rubin Cortes) - Pfeiffer,Kim - 7.60
6. Deichprinz (by Dancier x  Don Frederico) - Koch,Lisa Marie -  7.50
6. Beltani (by Belissimo M  x Wolkentanz II) - Kerner,Stefanie - 7.50
8. Daily News (by Daily Deal x  Fürst Heinrich) - Lieb,Johannes - 7.40
8. Royalin P (by Royal Doruto x  Hochadel) - Lieb,Johannes - 7.40
10. Quatanos (by Quaterhall x  Abanos) - Helmling,Bianca - 0 7.30
11. Skyway (by St. Moritz Junior x  Dancier) - Weiß,Sandra - 7.20
12. Queolito (by Quaterhall x  Fürst Romancier) - Kudernak,Nina - 7.10
13. Blue Button (by Bordeaux x Florestan) - Colling,Marie­Louise - 7.00
Related Link
Eurodressage coverage of the 2018 Bundeschampionate