2018 CDI Bolesworth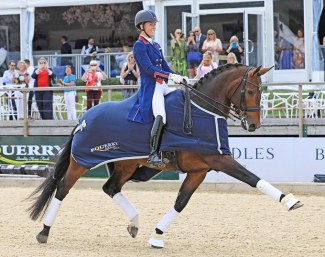 The 2018 CDI Bolesworth in Great Britain on 13 - 17 June 2018 is turning out to be all about double Olympic champion Charlotte Dujardin. After two days of competition, Dujardin has swept every single class she has entered in so far.
Aboard Florentina she won the international Prix St Georges and with her WEG candidate Mount St. John Freestyle she swept the international Grand Prix. On her young horse horses 
Dujardin and Freestyle Take Easy Grand Prix Win
Dujardin and Mount St John Freestyle (by Fidermark) served further notice of their rich potential as a partnership by claiming victory in Wednesday's headllne dressage class at the Equerry Bolesworth International Horse Show.
She has high hopes for the talented nine-year-old mare. Having won their first three grand prix classes together, they duly made it four in front of a knowledgeable and appreciative audience to land Bolesworth's three-star grand prix.
Their score of 79.652 per cent thwarted the victory ambitions of her mentor and fellow dressage superstar Carl Hester, who delivered a polished, accurate performance with Hawtins Delicato to score 77.217 per cent.
"God damn, she was just 0.4 per cent off scoring 80 per cent today!" a delighted Charlotte said. "She is so close to a big score, it is just the little things that push the marks down. There is so much to come from her, and there is so much to give. She is such a trier."
The pair are being talked about as a potential Great Britain team combination for the World Equestrian Games in Tryon, North Carolina in three months' time, and their impressive progress, which continued in fine style at Bolesworth, did nothing to dilute that prospect.
A high-class grand prix competition was dominated by a strong British contingent, with GB team member Gareth Hughes completing the podium places on Briolinca, scoring 74.435 per cent, while Emile Faurie and his British WEG team candidate Dono Di Maggio took fourth spot on 73.522 per cent.
A Double Act for Dujardin
Charlotte Dujardin completed a Tuesday morning double as she started her impressive winning run at the Equerry Bolesworth International Horse Show.
She won Tuesday's show-opening Prix St-Georges, and she was immediately back into a familiar groove as British national young horse talent took centre-stage in Bolesworth's International Arena for a national selection trial for the World Young Horse Championships in Ermelo.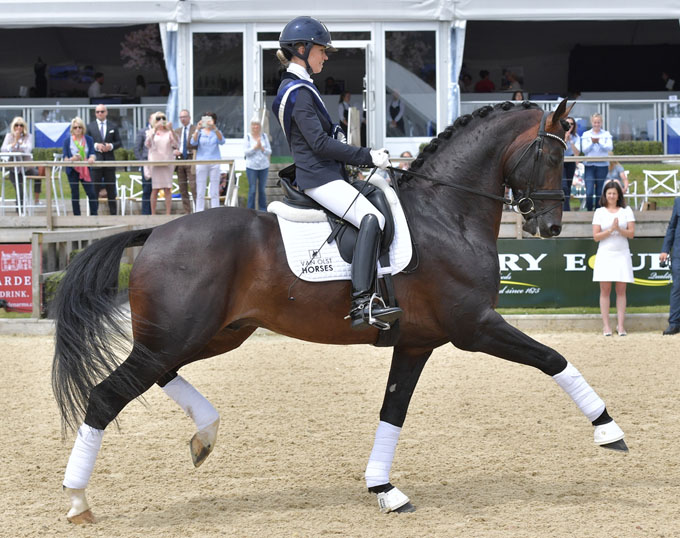 Charlotte's second victory of the event came in the six-year-old championship, as she delivered a command performance aboard the mare Hawtins San Floriana. Drawn last to go of six starters, their 86.200 per cent score sealed a dominant success, with Sara Gallop and BKS Fantasia finishing second on 82.000 per cent and Emma Woolley, riding Hancock V, filling third spot on 74.400 per cent.
After a short break, Charlotte returned to action with two horses in the seven-year-old championship o Mount St John VIP and River Rise Nisa. And her army of supporters were not left disappointed as she took first and third places in another display of poise, artistry and skill.
Charlotte triumphed with River Rise Nisa on 79.700 per cent, while her fellow British Olympian Fiona Bigwood was second aboard Daytona Platinum (76.915 per cent) and Charlotte completed the podium places on Mount St John VIP (74.115 per cent).
Dutch based British young rider Charlotte Fry dominated the five-year-old championship by storming to victory with the stallion Inclusive. A score of 85.800 per cent put her more than five percentage marks clear of Charlotte's second ride Iondale, a combination that took second spot, while Nikki Barker and Iwan finished third.
Related Links
Scores: 2018 CDI Bolesworth
Leading Dressage Stars Hester and Dujardin Head to the 2018 Equerry Bolesworth International Horse Show
Dressage Leading Lights Hot Foot it to Bolesworth International
Bolesworth to Serve as British 2018 WCYH Observation Trial