2018 Auctions of the Stars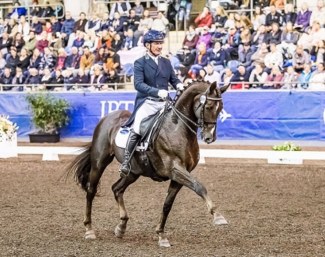 Heath and Rozzie Ryan's 2018 edition of "Auction of the Stars" on July 2018 will be more exciting than ever! With a collection of 37 horses ranging from foals and yearlings, green broken youngsters to an internationally competed Grand Prix horse, the Auction of the Stars on 28 - 29 July at Heatherbrae, NSW, has all the ingredients to be Australia's top sport horse auction of the year.
Over the years the Ryans have continually promoted top genetics and today the results out there in the competition arena are more than impressive. 
"Our contribution to the Olympic disciplines in Australia is something that we are proud of," said Heath Ryan. "We haven't properly documented these results and we do need to."
The 2018 Auction of the Stars collection includes 17 horses presented under saddle which range from five FEI level dressage horses, with two currently competing Grand Prix, right down to 3-year olds, who have just been broken in and are about to start their lives in the competition arena.
"All of these horses have been purpose bred and especially the young horses do represent an opportunity to ride at the top in Australia and perhaps go on and make an Olympic team," said Ryan. "Such is the quality of these young horses. Historically the record from the Auction of the Stars has been tremendous on all fronts."
Collection Highlights
One of the highlights of the collection is lot nr 1, the internationally competed Grand Prix dressage horse Utopian Cardinal, the 2016 Australian Grand Prix champion! Utopian Cardinal turns up to compete at every major CDI dressage competition on the Australian calendar.
"Cardinal is the work of my life and for me, selling him is a difficult moment," said Heath. "Cardinal has been on the market for $600,000AUD but clearly we have not managed to make this happen. He will be sold at the auction with a reserve that is much, much less. Cardinal is just 13-year old and we would expect him to easily be a top competitor in Grand Prix for another seven or eight years. It is possible he would go beyond that, but certainly seven or eight years. Cardinal is naturally very supple and folds easily through the poll with enormous elasticity through all of his paces."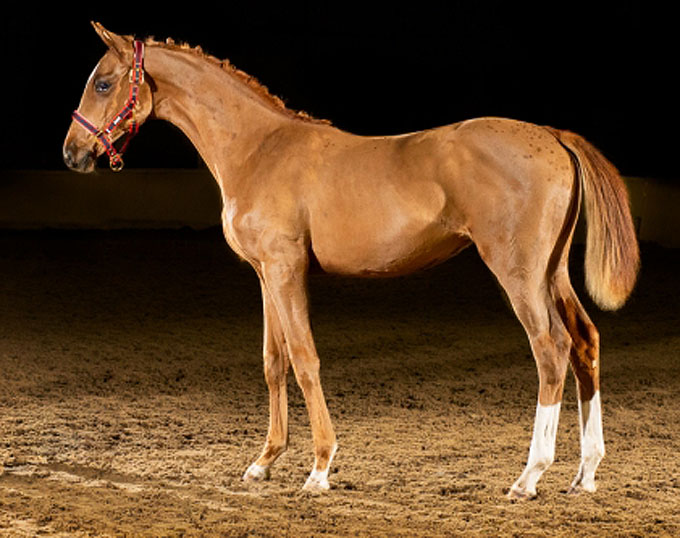 Lot nr. 2 is the gorgeous yearling filly Razzalie R (by Regardez Moi x Fiji R)
"Razzalie R is just so magnificent! She has lots and lots of natural charisma and poise. She has the conformation of a model born for the catwalk," said Rozzie. "She has movement with expression that dances in defiance of gravity. Of course we have discussed keeping her as a riding horse and also a valuable contribution to our broodmares and the ongoing development of our gene pool. However, we do have an older sister."
Lot 10 is Jungle Jive, a bay competed at Prix St Georges level. 
"Jungle Jive is a very exciting advanced dressage horse who has already had his first Prix St Georges start. Jungle Jive has five wins to his credit in the advanced dressage classes and has international movement. Jungle Jive has big flying changes with his changes every 4th stride and every 3rd stride fairly solid. He is, at the moment, working on changes every second stride and he has started schooling one-time changes. Jungle Jive does have piaffe and passage started and given time, these movements are going to be top of the range. Canter pirouettes are again good with promise of developing into highlights. Jungle Jive's basic paces and extensions are outstanding."
Check out the entire collection at www.auctionofthestars.com.au
Ridden Horse Try Outs
All ridden sport horses can be tried out and test ridden. This is one of the outstanding opportunities offered through the AOS selling program.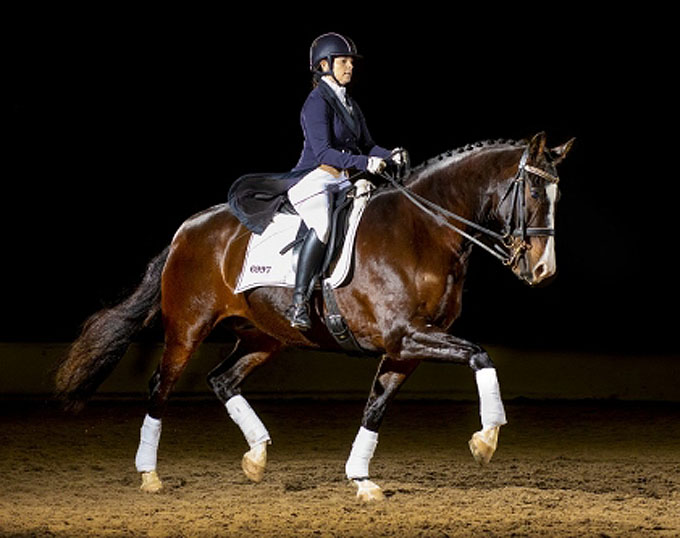 "We would encourage all riders who are slightly interested in the ridden horses to pluck up the courage to trial these horses in the official trialling times. You are also very welcome to trial these horses by prior arrangement in the weeks preceding the auction," said Heath.
"At the auction you do have the unique advantage of comparing one horse against the other. This comparison opportunity is exactly what happens in competition, one horse immediately compared against another, a phenomena which is very difficult to replicate when buying a horse privately."
VIP Seating
Auction of the Stars is more than just an auction - it is a time of highlights, of emotions, of education, of entertainment. It is a chance to see the champions of tomorrow in the sale ring of today, but more, it is a chance for you to take time out to enjoy the whole spectacle with the comfort of ringside viewing.
For just $30 a head, you can be among those special guests - yes, VIPs - who care to have that extra little attention to detail, who care for that little extra attention full stop! At Auction of the Stars, we would like to reward your visit with a memorable day out, where nibbles and drinks are constantly offered to you, where champagne bubbles on the tables as you watch in wonder as the Auction of the Stars stallions strut their stuff. We would like to pamper you with a delicious meal and offer you red and white wine to accompany it. Relax, chat, take a stroll past the stables and return with your friends for the auction itself.
Settle in for the afternoon's entertainment. Whether you plan to bid, whether you buy on impulse, or whether you simply enjoy the atmosphere, Auction of the Stars delights in ensuring your comfort and enjoyment.
Bid Online or Attend the Event!
Online bidding will be available on all the lots. About 40% of the AOS horses are sold at auction to people who aren't even there! You can bid online or via the phone.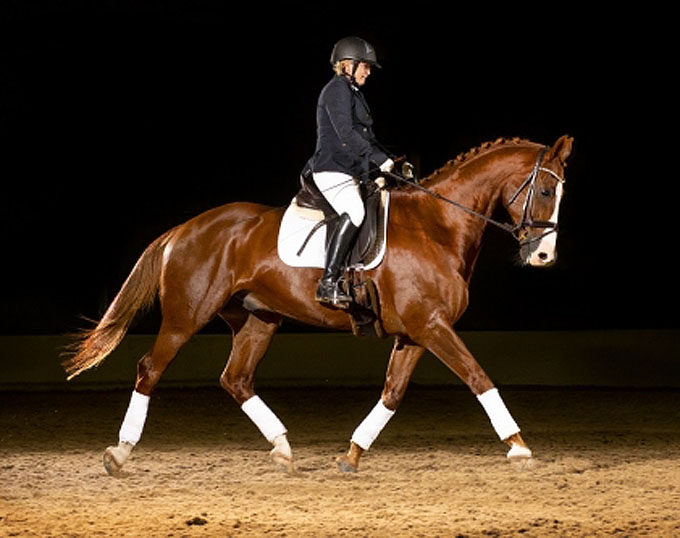 The live online bidding will enable you to bid in real time on the horses in this catalogue. If you see a horse going for a bargain you can jump in and get bidding.
" In general, our live crowd is made up of breeders, dressage enthusiasts and riders looking for their partner to take them up through the grades," said Heath. "And phone bidders are usually people who have come and trialled or seen horses but can't make it to the auction on the day. Out of the 37 lots one or two is bound to go for a bargain which if you are watching online you can jump in and get involved instantly. You can choose to bid instantly from anywhere around the world on any of the lots!"
The Auction of the Stars will be streamed live on Saturday 28 and Sunday 29 July 2018 so you will catch all the action.
For more information, visit www.auctionofthestars.com.au or email info@auctionofthestars.com