Spain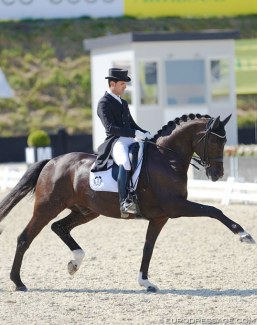 The Spanish Equestrian Federation has selected the team that will represent Spain in the most important Nations Cup leg of the year, held at the 2018 CDIO Aachen on 17 - 22 July 2018. 
Spanish team trainer Rudolf Zeilinger made his pick based on the performances of the riders this show season.
The Spanish team for Aachen will also most likely be the team for the 2018 World Equestrian Games in Tryon unless injury happens or other riders achieve new scoring levels.
The team for Aachen includes:
Claudio Castilla Ruiz - Alcaide
Beatriz Ferrer Salat - Delgado
Severo Jurado Lopez - Deep Impact
Jose Antonio Garcia Mena - Benzi Landro
Two other WEG team candidates, who are entered in the 4* tour for Aachen, are Juan Matute Guimon on Quantico and Borja Carrascosa on Ein Traum. 
Spain also has two riders in the U25 division (Juan Matute Guimon on Don Diego and Antonio Laiz on Gejholms Menotti) and two in the small tour (Antonio Laiz on Eye Catcher and Borja Carrascosa on Die Furstin).
Photo © Astrid Appels
Related Links
American Team Selected for 2018 CDIO Aachen
German Team for 2018 CDIO Aachen Announced
German Under 25 Longlist for 2018 Europeans, Team for 2018 CDIO Aachen
Global Dressage Forum Returns during 2018 CDIO Aachen