2018 Bundeschampionate Qualifier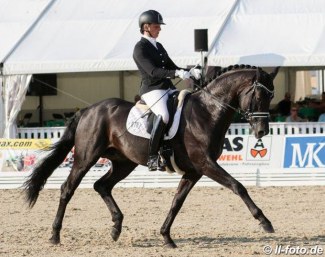 The 5-year olds Bounty and Despacito, and the 6-year old Spotlight became the winners of the Bundeschampionate qualification classes held at the 2018 Hanoverian Young Horse Championships in Verden, Germany, on 2 August 2018. 
The 5-year old division was split into two groups because of the large number of entries. Swedish Antonia Aohrstam rode Hof Brüning's Hanoverian gelding Bounty (by Benicio x Calypso II) to victory in the first group with an 8.7 score. The bay gelding got 9 for walk and trot, 8.5 for canter, 8 for submission and 9 for general impression. Maxi Kira von Platen and Jorge Carnicero's Hanoverian stallion Détente (by Dimaggio x Lauries Crusador xx) were the runners-up with 8.3. The stallion got 8.5 for walk, 8 for trot and canter and 8.5 for submission and general impression.
In the second group Julia Watzek and Gestut Lewitz' Oldenburg stallion Despacito (by De Niro x Sir Donnerhall) topped the board with 8.4. The dark bay stallion got 8 for walk and canter, 9 for trot, and 8.5 for submission and general impression. Three combinations were second with 8.2: Carola Koppelmann o her partner Ralf Hartmann's Hanoverian gelding Farewell's Fritz (by Farewell III x Sir Donnerhall), Judith Flach on Stephanie von Unger's Hanoverian mare Felicity Romance (by Furst Romancier x Weltmeyer) and Janine Drissen on Sponle's Hanoverian stallion Bob Marley (by Bon Bravour x De Niro). 
In the 6-year old division Tessa Frank and the Italian owned Hanoverian stallion Spotlight (by Sir Donnerhall x Wolkentanz I) bested the field with 8.4. The black stallion got 7.5 for walk, 8.5 for trot and canter, 9 for submission and 8.5 for general impression. Mike Habermann and Celle's Hanoverian stallion Londonchamp (by Londontime x Longchamp) tied in second place on 8.1. with Leonie Richter on her own Hanoverian gelding Quality Quinzy (by Quaterhall x Wilawander xx). Londonchamp got 8 for walk and canter, 8.5 for trot, 7.5 for submission and 8.5 for general impression, while Quality Quinzy earned 7.5 for walk, 9 for trot, 8 for canter, 7.5 for submission and 8.5 for general impression
Results - 2018 Bundeschampionate Qualifier - Verden
5-year olds - Group 1
1. Bounty (by Benicio x Calypso II) - Antonia Öhrstam - 8.70
2. Détente (by Dimaggio x Lauries Crusador xx) - Maxi Kira von Platen - 8.30
3. Fleetwood Mac (by Fürst Romancier x Diamond Hit) - Mayke Liebregts - 8.10
3. Harrods (by Hochadel x Rotspon) - Nicole Wego - 8.10
5. DeeJay BK (by Destano x K2) - Jörn Kubelke - 8.00
6. Ballantines Finest (by Beltano x Florestan) - Sandra Kötter - 7.80
7. Edward Tudor (by Edward x Longchamp) - Catja Thomsen - 7.70
5-year olds - Group 2
1. Despacito (by De Niro x Sir Donnerhal) - Julia Watzek - 8.40
2. Farewell's Fritz (by Farewell III x Sir Donnerhall) - Carola Koppelmann - 8.20
2. Felicity Romance (by Fürst Romancier x Weltmeyer) - Judith Flach -  8.20
2. Bob Marley (by Bon Bravour x De Niro) - Janine Drissen - 8.20
5. Dave Brubeck (by De Niro x Belissimo M) - Hannah Laser - 8.00
6. Friend for Life (by Fiorissimo x Sir Donnerhall) - Lena Waldmann  -7.80
7. Felipa del Sol SH (by Fürstenball x Rohdiamant) - Friederike Reins - 7.70
8. Barolo (by Belissimo M x Hochadel ) - Eike Bewerungen -  7.60
8. Love Parade (by Londontime x Regazzoni) - Nina zur Lage- 7.60
10. Donnerlittchen M (by Don Darius x Weltmeyer) - Andrea Müller­Kersten - 7.50
10. Silver Lining ZB (by Supertramp (GBR) x Distelzar) - Sascha Böhnke - 7.50
10. Sternengold (by Damon Jerome x Sandro Hit) - Franziska Müller - 7.50
10. Laudrup (by Londontime x Walzertakt) - Marie­Caroline Barbier -  7.50
10. Surprice's Sunshine (by Surprice x Don Crusador) - Becker,Anna­Marie - 7.50
15. Brasilia (by Benicio x Lauries Crusador xx) - Anja Duetsch - 7.40
15. Daimjenka (by Don Index x Curator) - Verena Staffa- 7.40
15. Duque de Montebello (by Dancier x St. Moritz) - Sandra Frieling - 7.40
18. Celeste di fonte Abeti (by Apache x Rubinstein ) - Victor Alfonso Pomares- 7.30
18. Descando (by Diamond Hit x Florestan) - Shereena Satzer - 7.30
20. S­Thetik (by  Scolari x Davignon) - Elsa Maulet - 7.20
21. Delahaye (by Don Schufro x Locksley II) - Maxi Kira von Platen - 7.10
22. 474 Ferrero (by Floriscount x Lauries Crusador xx) - Luisa von Allwörden - 7.00
22. Music (by Temptation x Sandro Hit) - Judith Flach -  7.00
22. Red Rooster (by Rienzi x Samarant) - Jörn Kubelke - 7.00
25. Boccaccio (by Benicio x Converter) - Alvaro Osborne Diez - 6.90
26. Flashback (by Franziskus x Sir Donnerhall) - Carolin Brandt -  6.80
27. Dornröschen (by Don Schufro x Sandro Hit) - Marilena Gerdes - 6.60
28. Biskana TH (by Zonik x Harvard) - Sabrina Fröhlke - 6.40
28. Calispera di fonte Abeti (by Don Frederic x Gribaldi ) - Victor Alfonso Pomares- 6.40
30. Dr. Darius E.D. (by Damsey x Lordanos) - Corinna Döring -  6.00
Who's who (by Weltregent H x Rascalino) - Hannes Baumgart - RET
Fritz Santinus (by Franziskus x Rohdiamant) - Silvia Busch­Kuffner - RET 
Céleste (by For Romance I x Don Romantic) - Nadine Falke - RET
Iconic Ashbank (by Charmeur x Metall) - Tanya Karen Seymour - RET
6-year olds 
1. Spotlight (by Sir Donnerhall I x Wolkentanz I) - Tessa Frank - 8.40
2. Londonchamp (by Londontime x Longchamp) - Mike Habermann - 8.10
2. Quality Quinzy (by Quaterhall x Wilawander xx) - Leonie Richter-  8.10
4. Rock Springs (by Rock Forever I x Fidertanz) - Janina Tietze - 8.00
5. Best Friends (by Bordeaux (NLD) x Don Primero) - Lena Stegemann -  7.80
5. Rhonda (by Decamerone x Rubinstein ) - Ilsemarie Berkenbusch - 7.80
7. Emilio 1 (by Estobar NRW x Don Crusador) - Wolfhard Witte-  7.70
7. Die Landlust K (by Destano x Londonderry) - Matthias Klatt - 7.70
7. Deduschka Moros (by Diamond Hit x Royal Diamond) - Lena Waldmann - 7.70 
10. Robbie Williams (by Royal Classic x Fürst Piccolo) - Lena­Alexandra Torloxten -  7.60
11. Davinci (by Don Diamond x Florencio) - Pedro Matos -  7.50
11. Black Devil (by Balou du Rouet x Contendro) - Andrea Timpe -  7.50
11. Follow Me (by Floriscount x Sir Donnerhall) - Denise Christin Behr -  7.50
14. Bremer Design (by Bordeaux (NLD) x De Niro) - Heike Kind - 7.40
15. Fidermond (by Fidertanz x Caprimond) - Andrea Timpe -  7.30
15. Quaterbest ES (by Quaterback x De Niro) - Friederike Reins -  7.30
17. Fräulein Uschi (by Floriscount x Rohdiamant) - Anna­Marie Becker-  7.10
17. Dakota (by Diamond Hit x Londonderry) - Ilsemarie Berkenbusch -  7.10
17. Finnic Royal K (by Floriscount x Londonderry) - Matthias Klatt- 7.10
17. St. Cyp (by  St. Moritz Junior x Weltmeyer) - Anett Müller -  7.10
21. Quinada (by Quasar de Charry x His Highness) - Jörn Kubelke - 7.00
22. Fürst Faxe (by Fürstenball x Wolkenstein II) - Swantje Exeriede - 6.80
23. Dancing Girl (by Dancier x Wolkenstein II) - Alvaro Osborne Diez -  6.70
24. Sir Sullivan (by Spörcken x Fürst Heinrich) - Shereen Giese Südholsteiner -  6.40
24. Beau reguard di fonte Abeti (by Fidertanz x Sir Donnerhall) - Victor Alfonso Pomares - 6.40
Saint Laurent (by Sarkozy x White Star ) - Timo Kolbe - RET
Photo © LL-foto
Related Link
Eurodressage coverage of the 2018 Bundeschampionate