2018 Bundeschampionate Qualifier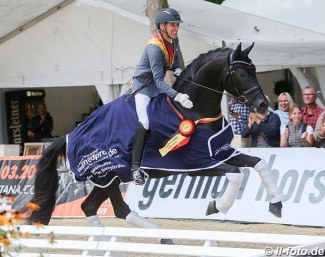 Rudolf Widmann and Gestut Ammerland's Westfalian stallion Revenant climbed from a fourth place in the preliminary round to a first in the 6-year old dressage horse finals to earn gold at the 2018 Bundeschampionate in Warendorf, Germany, on Saturday 1 September 2018.  Bon Amour earned silver, the bronze went to Leo Löwenherz.
Revenant Rises to Gold
Widmann and the handsome dark bay Rock Forever x Sir Donnerhall I stallion rode a secure round that was well rewarded with a 9.0 total by the judges' panel consisting of Elke Ebert, Rolf-Peter Fuss and Michael Hubrich. The stallion got 8 for walk, 9 for trot, 9.5 for canter, 9 for submission and 9.5 for general impression. 
Revenant has built up an impressive show record at his young age. He was the 2016 Westfalian Young Horse Champion, then sold for 1.1 million euro to Gestut Ammerland at the 2016 PSI Auction. In 2017 he represented Germany at the World Young Horse Championships in Ermelo and finished sixth in the consolation finals. This year, Widmann skipped the whole WYHC show scene and focused on the Bundeschampionate, with success. The pair already scored bronze at last year's Bundeschampionate, but now their efforts resulted in gold. 
Bon Amour Finds Silver Lining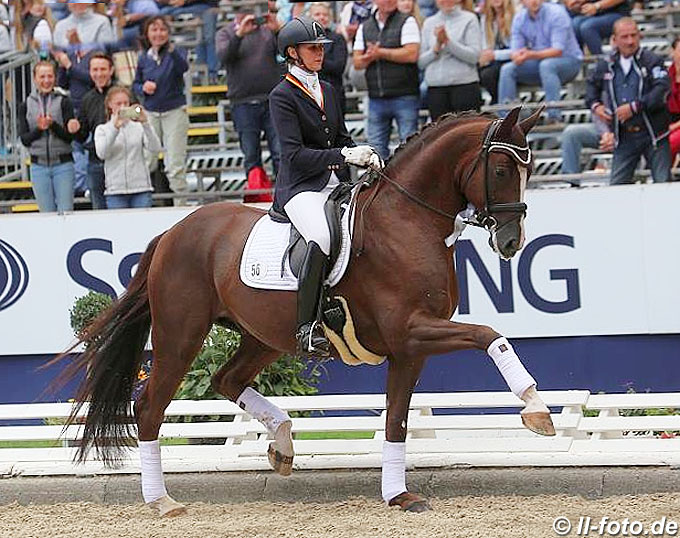 Birthday girl Alexandra Bimschas saw her 47th birthday celebrated with a silver medal. Aboard Claus Quast's Bavarian stallion Bon Amour (by Benetton Dream x Stedinger), she finished in second position for silver with 8.7. Bon Amour received 8 for walk, 9 for trot, 8.5 for canter, and 9 for submission and general impression. 
Bon Amour also made an impressive rise at the Bundeschampionate this year. They were 40th in the preliminary round with 7.20 points and had to grab their finals' ticket via the consolation class. They improved their act and placed third in the consolation with 8.10, to climb even further on the board to a second place in the Finals with 8.7. 
Leo Löwenherz Gets Bronze
Isabell Werth's assistant trainer Niklaas Feilzer scored the bronze medal aboard Madeleine Winter-Schulze's Rhinelander gelding Leo Löwenherz (by Licosto x Rockwell). The chestnut gelding with big blaze and white stockings was still owned by Klaus Wagner during the qualification trials, but the fact that Werth's long-time sponsor Winter-Schulze has purchased the horse says plenty of how Isabell esteems the potential of this mount. Last year at the Bundeschampionate, Leo Löwenherz competed under Lydia Camp. They finished 9th in 5-year old Finals after winning the consolation class.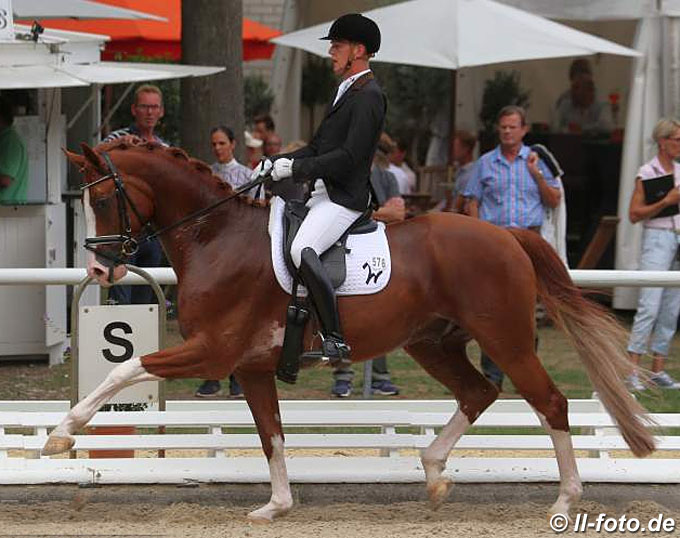 Feilzer and Leo Löwenherz were third in the preliminary round and they stayed consistent in the finals although the flying changes still required quite some maneuvering in the saddle by Feilzer. The judges rewarded the horse with 8 for walk, 9 for trot, 8.5 for canter and submission and 9 for general impression. They totaled 8.6 for bronze. 
Two horses placed fourth with an 8.5 total: Furst William HC and Dalicanto. Beatrice Buchwald and the Belgian owned Oldenburg stallion Furst William HC (by Furst Wilhelm x Lord Sinclair) were the winners in the preliminary round but dropped to fourth place with 8.5 in the finals after having some issues with a flying change. The bay stallion, owned by Anemone Samyn, scored 8.5 for walk, trot, canter, 8 for submission and 9 for general impression. Heiner Schiergen and Alexandra Karasch's Hanoverian stallion Dalicanto (by Dancier x Rotspon) tied in fourth place. This liver chestnut stallion got 8 for walk, 8.5 for trot, 9 for canter, 8 for submission and 9 for general impression. 
Photos © LL-foto
Related Links
Scores: 2018 Bundeschampionate
Eurodressage coverage of the 2018 Bundeschampionate