2018 Norwegian Young Horse Championships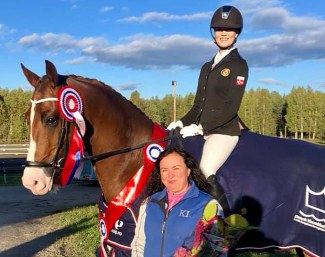 The 4-year old Joshua, the 5-year old JJ Filippa, the 6-year old Højgaardens Santos and the 7-year old Maro's Fabergée became the winners of the 2018 Norwegian Young Horse Championships held at the Nes Riding Centre on 19 - 23 September 2018.
Fourteen combinations competed in the 4-year old division and Nora Ekrem steered Jonas Elvebakk's KWPN bred Joshua (by Negro x Jazz) to victory with an 81.200 score. The gelding received 7.5 for walk, 8.5 for trot, 7.7 for caner, 8.7 for rideability and 8.2 for potential from judges Irmelin Summannen and Øyvind Ødemotland. Zandra Trondsdatter Birkeland was the runner up on the KWPN stallion Jericho (by Vivaldi x Lancelot) with 78.000 points. The stallion got 8.2 for walk, 7.4 for trot, 7.7 for canter, 8 for rideability and 7.7 for potential. Helena Liholt Gulli and Kristin Andresen's Norwegian bred AC's Pik Midaz (by Tobajo Picez x Walt Disney) were third with 74.800 points.
Fourteen five-year olds assembled at the Nes riding school to battle it out for the title. The score barrier of an 8.0 did not get cracked in this division and the winning score was 72.600 points achieved by Cecilia Schillbred on the Danish warmblood mare JJ Filippa (by Furstenball x Davignon). The judges rewarded the mare with 7.5 for trot, 8 for walk, 6.7 for canter, 6.8 for submission and 7.3 for potential. Elina Lundblad got silver with 71.20 on the Norwegian warmblood gelding Skaeloys Zackarias (by Zack x Depardieuà. The gelding got 6.8 for trot, 7.5 for walk, 7 for canter and submission and 7.3 for general impression. Kristin Ostbo Hulsen and Kristin Andresen's Danish mare Hesselhoj's Donkeygirl (by UNO Don Diego x Milan) earned bronze with 69.80. She tied in third place with Sandra Nicoline Birkeland on the Danish mare Roholts Sizzling Hit (by Sandro Hit x Wolkentanz I).
Eight combinations delivered the action in the 6-year old division and Carmen Gronvold Johannessen won the title with her Danish warmblood gelding Hojgaardens Santos (by San Amour x Friendship). She scored 79.400 after earning 9 for trot, 6.7 for walk, 7.8 for canter, 7.9 for submission and 8.3 for potential. Maren Knappe and the Norwegian mare Skoglys Rihanna (by Royal Olymp x Dynamit) were good for silver with 75.800 points. The mare earned 7 for walk, 7.7 for trot, 7.4 for canter, and 7.9 for submission and general impression. Lucinda Marie Groth and the Oldenburg bred Larry Hagman Firfod (by Angrid Firfod x Michellino) got bronze with 70.200.
Three horses competed in the 7-year old division which was won by Silke Tornbik on the Norwegian mare Maro's Fabergée (by Fassbinder x Romanov). The chestnut mare got 7.3 for walk and trot, 7 for canter, 6.5 for submission and 7 for perspective to total 66.957 points. The silver went to Silke Chatrin Mevik Bjornvik on the Oldenburg bred Lautus (by L'Espoir x Negro). They posted 65.815 on the board and got 6.8 for walk, 7.7 for trot, 7.3 for canter, 6.5 for submission and 7.3 for perspective. Camilla Godager and the Swedish warmblood MM Beleco (by Bocelli x Lord of Catwalk H) earned bronze with 62.043% after receiving 5.9 for walk, 6.5 for trot, 6.4 for canter, 5.9 for submission and 6.2 for general impression.
Results - 2018 Norwegian Young Horse Championships
4-year olds
Rider - Horse - Walk - Trot - Canter - Rideability - Potential ---- Total
1. Nora Ekrem Solberg - Joshua (KWPN, by Negro x Jazz) -  7.5 8.5 7.7 8.7 8.2 --- 81.200
2. Zandra Trondsdatter Birkeland -  Jericho (KWPN, by Vivaldi x Lancelot) -   8.2 7.4 7.7 8 7.7 --- 78.000
3. Helena Liholt Gulli - AC's Pik Midaz (NWB, by Tobajo Picez x Walt Disney) -  6.7 8.7 7 7.5 7.5 --- 74.800
4. Camilla Sønsteby Holen - Papillon (DWB, by Charmeur x L'Espoir) -   7 6.8 8 7.5 7.7 --- 74.000
5. Kaja Wilhelmsen Rokstad - Blue Bird (AES, by Brennus B x Donnerschlag) -   7.4 6.5 7 7.3 7 --- 70.400
6. Pål Gumdal Vuttudal - Triumph Joya Negra (?) -  7 6.9 6.5 6.7 6.9 --- 68.000
7. Lise Mordal -  Shania V (DWB, by Bøgegårdens Santiago x Rubinstein) -  6.8 6 7 6.5 6.8 --- 66.200
8. Emma Ruth Thodesen - Hedegården Vizuan (DWB, by Sezuan x Jazz) -  6 6.5 7 6.8 6.7 --- 66.000
8. Elisabeth Eika - Stallknektens Jazzme (DWB, by Jazz x Lauries Crusador) -  7.7 6.3 6 6.5 6.5 --- 66.000
10. Anne Elisabeth Røhne Hallingstad - Reagan Mosebo (DWB, by Blue Hors Rockefeller x Uffe Korshøjgaard) -  7 6.8 6 6.5 6.6  --- 65.800
11. Silje Viland Aanonsen - Jupiter SV (KWPN, by Van Gogh x Quattro B) -  7.2 6 6 6.5 6.5  --- 64.400
12. Vilde Brekke -  Fürst Bellino (NWB, by Fürstenball x JJ Rocco ) -  6.7 6.4 6.3 6 6.5  --- 63.800
13. Camilla Hoel Skjønhaug  - Fürstinne Jubile (DWB, by Fürstenbal) -  7.2 6 4.5 4.5 5.9  --- 56.200
14. Ingrid Ølstad - Lundhaugs Bellelus (?) - RET
5-year olds
Rider - Horse - Trot - Walk - Canter - Submission - Perspective --- total
1. Cecilie Schilbred - JJ Filippa (DWB, by Fürstenball x Davignon) - 7.5 8 6.7 6.8 7.3 ---  72.600
2. Elina Lundblad - Skjæløys Zackarias (NWB, by Blue Hors Zack x Depardieu) - 6.8 7.5 7 7 7.3 ---   71.200
3. Kristin Østbø Hilsen  - Hesselhøj Donkeygirl ( (DWB, by Uno Don Diego x Milan) - 7.5 6.5 7 6.9 7 ---   69.800
3. Sandra Nicoline Birkeland - Roholts Sizzling Hit (DWB, by Sandro Hit x Wolkentanz I) - 7 7 6.8 6.9 7.2 ---   69.800
5. Kristin Hilsen Vestre - Diablo (?) - 7.9 6.8 6.3 6.2 6.9 ---  68.200
6. Nora Ekrem  - Aagaardens Jackson (DWB, by Jazz x Krack C) - 6.7 7.2 7 6 7 ---  67.800
7. Elisabeth Katerina Dahl - Waresca Ramona (NWB, by Skovens Rafael x Concorde) - 6.9 6.8 6.5 6.5 6.8 ---  67.000
8. Sandra Nicoline Birkeland - Jotunheimens Hero (NWB, by Deemster x Alfas Arnt) - 6.3 7 6.9 6 6.8 ---   66.000
9. Lena Erlandsen Ellingsrud - Stallknektens D'Asti (NWB, by De Noir x Painters Row) - 6.3 6.5 6.8 6.5 6.8 ---  65.800
10. Louise Almlund Løkken -  King Cavalier (NWB, by Danny De Vito x Crelido) - 6.5 5.5 7 6.5 6.8 ---  64.600
11. Andreas Johan Schilbred K- Vidtskue's Karlo ( DWB, by Krack C x Loran) - 6 6.3 6.5 6.8 6.6 1.5 ---  62.900
12. Cecilie Schilbred - Miss Fifty Zhades (DWB, by Fürstenball) - 6 7 5.9 5.9 6.5 ---  62.600
13. Vilde Brekke - Stutteri B's Mo'Zorah (DWB, by Blue Hors Zack x Romanov) - 5.8 5.8 6.2 6 6.3 ---  60.200
14. Siri Bentsen - Clarence AJK (TRAK, by Herbstkönig x Godot) - 6.7 4.9 6 6 6 ---  59.200
6-year olds
Rider - Horse - Trot - Walk - Canter - Submission - Perspective --- total
1. Carmen Grønvold Johannessen - Højgaardens Santos (DWB, by San Amour x Friendship --- 9 6.7 7.8 7.9 8.3  --- 79.400
2. Maren Knappe - Skoglys Rihanna (NWB, by Royal Olymp x Stall Ks Dynamit --- 7.7 7 7.4 7.9 7.9  --- 75.800
3. Lucinda Marie Groth - Larry Hagman Firfod (OLBDG, by Angrib Firfod x Michellino --- 7 7.5 6.9 6.7 7  --- 70.200
4. June Ranita Mevik Bjørnvik - Damascus L (?) - 7 6.5 6.8 6.5 7  --- 67.600
5vAnne Elisabeth Røhne Hallingstad-  Imhoffs Freedom (?) - 6.7 6.5 6 5.9 6.2  --- 62.600
6. Vilde Røinås - La Schuzel Sirik (?)- 6.3 7 6 6 6.2 0.5  --- 62.500
7. Beate Kåsa Stensrud  - Lillebergs Cathageno (NWB, by Tobajo Picez x Cathageno) -  5.9 7.2 5.5 5 5.9  --- 59.000
8. Caroline Nyheim de Besche -  Vidtskue's Cabriolet (DWB, by Cabachon x Equest Carnute) - 5.8 5.9 5.5 4.8 5.9  --- 55.300
7-year olds
Rider - Horse - Trot - Walk - Canter - Submission - Perspective --- total
1. Silje Tornvik Flora - Maro's Fabergée (NWB, by Fassbinder x Romanov) - 7.3 7.3 7 6.5 7 --- 66.957
2. Silje Chatrin Mevik - Lautus (O.S, by L'Espoir x Negro) -  7.7 6.8 7.3 6.5 7.3 0.5 --- 65.815
3. Camilla Godager  - MM Beleco (SWB, by Bocelli x Lord Of Catwalk H) -  6.5 5.9 6.4 5.9 6.2 --- 62.043
Related Links
Berge's Roxette, Jinx, Dice Win the 2017 Norwegian Young Horse Championships