2018 CDI-W Devon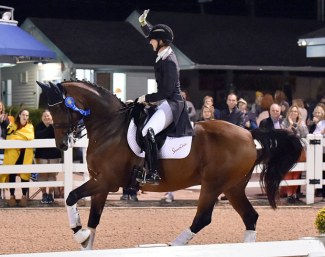 Jessica Jo Tate's string of success of Devon peaked with a World Cup qualification victory in the Grand Prix Freestyle at the 2018 CDI-W Devon on Saturday night 29 September 2018. After winning the Grand Prix for Kur as well as the Medium Tour Inter A, Tate put the icing on the cake by bagging the freestyle victory.
Riders and spectators alike looked forward to Saturday night under the lights as the horses compete for the coveted title of the winner of the Grand Prix Freestyle.
Winner, Jessica Jo Tate on the Westfalian bred Faberge (by FlorestanI out of Baroness), earned an impressive score of 73.650, riding to what she called "a mixture of pop and classical.
"It was a really good time and the weather was great. It is such a famous ring – every rider understands the magic of the Dixon Oval," she said. "It is so much like Europe. The crowd was wonderful, truly behind the rider. It is an honor to ride in the Dixon." 
Coming in second was Nicole Harrington on Wizard of Oz (by Weltmeyer out of Vadella). Harrington bought him as a Prix St Georges horse – as a project with the intent to resell. But horses sometimes have a way of finding their way into the hearts of riders.
This is the first time she has done the CDI saying "It was always on my bucket list." The music? It was a mixed sound track from, where else, The Wizard of Oz. From Somewhere Over the Rainbow to the evil witch cackling in the background, it just fit. "It started out as a joke," said Harrington. "But that's what he wanted. He loved it!"
Kim Herslow and Soraya II (by Sandro Hit out of Dynamique) took home third, with a score 70.275, riding to a mix of Taylor Swift, Adele, and Nicki Minaj.
"This was her first CDI Freestyle and I just decided to go for it," said rider Kimberly Herslow of Stockton, NJ. "I felt I could ride with a little more expression. This is the most fun freestyle I've ever done!"
Canadian Diane Creech won the Grand Prix Special, a class which featured just three combinations. Aboard the 14-year old Hanoverian Hallmark (by His Highness out of Lapislazuly) Creech of Ontario, Canada, scored 65.936%.  Diane is no stranger to the Dixon Oval, having ridden in the Grand Prix last year on Chrevis Christo. Speaking about Hallmark, Creech said, "he is a horse with a heart of gold. Actually, he is all gold!"
Photo © Hoof Print Images
Related Links
Scores: 2018 CDI-W Devon
Tate and Strasser Win Grand Prix classes at 2018 CDI-W Devon