2018 PS Online Auction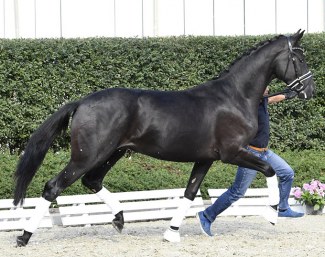 On 27 September 2018 the second PS Online Colt Auction for Stallion Prospects and Licensing candidates kicked off. This is your opportunity to buy a high quality and exquisitely bred young stallion prospect that can be your future breeding stallion and top sport horse! The online auction ends on 7 October 2018.
2018 PS Online Colt Auction - Horse in the Spotlight: De Niro's Donnerhall
De Niro's Donnerhall (by De Niro x Rosario x Donnerhall) is a 2016 born, Hanoverian registered black stallion, standing 165 cm.
This stunning colt is already accepted for the 2018 Hanoverian Stallion Licensing at the end of October !
Interesting in-breeding of Rubinstein I, Donnerhall and Akzent II in this pedigree. Up to now, dam Rosaria has produced 3 successful sport horses.
This stunning black stallion represents the famous East Frisian line 123/Voga (by Sigmar-Derflinger-Sultan II-Y. Cardinal; H. Andreesen, Heglitz), which produced, from various branches, 23 licensed stallions, including Banderas DSF (CAN), Coblesse and Karthago (privately owned NL), Donnar von Wichenstein (SUI), Larius (privately owned Brdbg.), Caipirinha and Luberon (Ldb. Schwaiganger), Rabano (privately owned Bavaria), Wildschütz (privately owned East Frisia.), as well as the champion of the 1995 Oldenburg elite mare show Viktoria B, the internationally successful show-jumpers Flying High 2/Peter Weinberg, Leo H/Jesper Lund Kristensen (DK), Grand Lou Lou 2/Axel Milkau, Respect 2/Thieß Luther and Grandalero/Friedrich-Wilhelm Koller, and the internationally successful dressage horses Sympathico 15/Gabriele Steffan, Wotticelli SW/Isabell Werth and Scholastica/Amy Swerdlin (USA).
De Niro's Donnerhall is bred by Gestut Lewitz
2018 PS Online Colt Auction - 27 September - 7 October 2018
Don't miss the opportunity to buy your next dressage star. With the best selected colts of the year, take advantage of the new marketing opportunity offered by the Paul Schockemöhle stud farm. BID NOW!
Register online to bid and you will be informed if you have the highest bid or if someone overbid you. 
If you have any questions about the auction of the horses in the collection, feel free to call the Schockemöhle team at  
+49 5492 960100 or send an email to deckstation@schockemoehle.com
Check out the entire collection at https://ps-online.auction/