2018 PSI Auction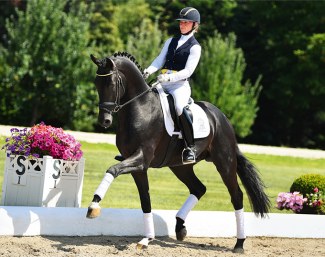 For the 39th time the team of Performance Sales International (PSI) has gathered an extraordinary collection of proven young dressage show stars and up and coming diamonds. This collection of top class sport horses will be auctioned on 9 December 2018 at the P.S.I. Sport & Auction Center in Ankum, Germany.
Hof Kasselmann, in charge of making the rigorous selection for the dressage collection and training, presenting and competing the young talents, has released the collection for the 2018 PSI Auction.
You can now find detailed descriptions, photos, and videos of the P.S.I. Dressage Collection on www.psi-auktion.de 
Live Presentations in Ankum
You can also experience the collection at one of our LIVE PRESENTATIONS on 1 and 5 December 2018 at 6 PM (CET) at the P.S.I. Sport & Auction Center in Ankum.
The 1 December live presentation will be streamed live. Enjoy the dressage horse presentation online in LIVE STREAM on: www.psi-auktion.de 
Don't hesitate to contact one of our sales consultants to help you find your next top horse at the 39th P.S.I. Auction. Your success is our motivation!  
Schedule a Private Viewing
For detailed information about the dressage collection and to schedule a personal viewing of the horse for try-outs, ypu can reach the dressage sales consultants in the office or via cell phone under: +49 (0) 5401 89200
Contact Persons are:
Ullrich Kasselmann  - +49 (0) 5401 89 200 
Francois Kasselmann - +49 (0) 171 496 98 65 
Bianca Kasselmann - +49 (0) 171 3868819
Emile Faurie - +49 (0) 171 480 87 68 or +44 (0) 783 124 66 56 
Hartmut Lammers - +49 (0) 175 650 55 80
Insa Hansen  - +49 (0) 172 455 62 16 
Anke de Boer  - +49 (0) 152 218 082 06 
For further information, or to order tickets or a catalogue, please contact the PSI office or use the online order form: 
+49 (0) 5401 89 200