2018 U.S. Dressage Finals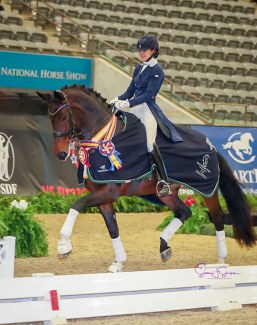 It would be an understatement to say that Nora Batchelder of Williston, Fla. had a successful trip to the 2018 US Dressage Finals held November 8-11 in Lexington, Ky. Going into the final day of competition on Sunday, her two talented small tour horses, Faro SQF and Fifi MLW, had already earned top placings in both the Intermediate I Open and Intermediate I Open Freestyle divisions. The only problem was that Faro SQF always seemed to come out on top.
"I love them both and can't help but feel a little bad for Fifi," said Batchelder earlier in the week. "She'll go in the ring and set a score that I think can't be beaten, and then here comes Faro and he tops it. It seems that she's always the bridesmaid, but never the bride."
But in the Prix St. Georges Open Championship, the nine-year-old Hanoverian mare (Fidertanz x Wolkenstanza MLW by Wolkentanz I, bred in the U.S. by Mary Winn) finally turned the tables on her stablemate, setting a score of 73.137% which neither Faro SQF, nor anyone else, could beat. In the winner's circle, Batchelder and Fifi MLW were presented with both the Miki Christophersen Perpetual Trophy (presented by USDF Region 4) for their victory and the Lloyd Landkamer Perpetual Trophy for FEI Highest Scoring Mare (presented by Janet Foy), an honor which Fifi MLW also earned in 2017.
"Both of these horses are special to me, but I'm so happy for Fifi," said Batchelder, representing Region 3. "They were both bred in Florida near where I live – it meant a lot to me to get horses bred in the U.S., and they are such great quality. Fifi was just showing at Training Level when I got her, and I took my time and brought her out at Third Level after I had the changes. She's so powerful and can be a lot of horse to manage, so I have to remind her to wait for me. Her walk and trot are her strongest gaits, so I strive to get her sitting in the canter and am always working to improve the connection. She's still young enough that we may try the Developing Grand Prix next year."
Batchelder also praised her 10-year-old Hanoverian gelding Faro SQF (Fidertanz x MS Rose by Rotspon, bred in the U.S. by Jill Peterson, owned by Batchelder and Andrea Whitcomb) who earned 71.765% for Reserve. "We've been together about two years, and he's so easygoing and polite – very different from Fifi," she explained. "He was a great amateur horse and his owner loved him, but he was just a little too big for her and they were struggling a bit with getting changes, so she decided to sell him. He came to me for training and I said, 'I just can't let him go', so called up my cousin and asked her if she wanted to buy him together. So here we are. We're going to go home and keep working on the Grand Prix movements and maybe try the Intermediate II next year."
Hewitt Proves to Be Once Again Unbeatable in Prix St. Georges Adult Amateur Championship
Hannah Hewitt of Atlanta, Ga. (Region 3) has certainly made the most of her very first trip to the US Dressage Finals. After proving to be unbeatable in the Intermediate I and Freestyle divisions for Adult Amateurs earlier in the week, Hewitt returned to the arena one last time with Tammy Pearson's eight-year-old Dutch Warmblood gelding Fidens (Tango x Bliss by United) to accept the Janine Westmoreland Malone Perpetual Trophy (presented by USDF) for their victory in the Prix St. Georges Adult Amateur Championship with 70.735%.
"The competition here has been so tough – I watched other people's rides and they were just incredible. I'm just so lucky to be here competing against this group, and it makes me a better rider and competitor," said an appreciative Hewitt. "I was especially proud of Fidens today because he was running on fumes, but even though he was tired, he tried so hard and was with me the whole time – he never looked for an 'out' and was all heart. It's been wonderful to share this experience with my amazing trainer, Karen Lipp, and my family – my mom has always been so supportive and my sister is here braiding for me. This week has been an amazing experience and I've met so many nice people and had a lot of fun."
After winning the Fourth Level Adult Amateur Freestyle title last year, Susan Jones of Walton, Ky. (Region 2) returned to the Finals with her new mount Four Ever, 14-year-old Westfalen gelding (by Farewell III x Robina Royale by Rosso di Sera) and earned 68.186% for the Prix St. Georges Adult Amateur Reserve Championship. "I am delighted to be back at the Finals and it's exciting with a new horse," said Jones. "He's like a large puppy dog, but he's very fiery and awesome to ride. I call him the 'Magic Carpet' because he just sails around. We had some issues earlier in the week, but it was a really great learning experience and I'm very proud that we put it all together today. That's why I think this show is so great for adult amateurs, because of how much we can learn from competing in this environment. It's so inspiring to be here."
Photo © Sue Stickle
Related Links
Hewitt, Batchelder, Rumbough, Koford Win Kur Titles at 2018 U.S. Dressage Finals
Mason, Hewitt, Tarjan, Koford Win Titles on Day Two of 2018 U.S. Dressage Finals
Candescent and Faolon Find Their Calling on First Day of 2018 US Dressage Finals