2018 CDI Sopot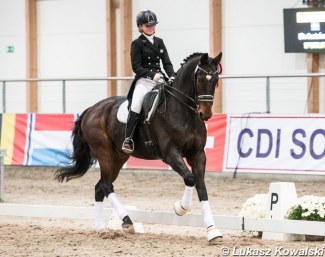 In her last competition as a young rider at the 2018 CDI Sopot on 9 - 11 November 2018, Swedish Elin Gustafsson and her 19-year old Sportlife won all three Young Rider tests with 67.706%, 67,353% and 71,620%.
First competed at junior riders' level by Dutch Aime Weise in 2013, Sportlife (by Montecristo x Apollonios xx) became Gustafsson's young rider schoolmaster and the pair has competed at one CDI in 2016, their debut event in Augustowek, after which they skipped 2017 to return in 2018 at two CDi's in Sopot. At the last Sopot show they achieved a strong hattrick.
"I'm very happy with the competition in Sopot. It's a very nice arena, nice facilities for the horses, and great people working there," Elin told Eurodressage. 
Gustafsson was very pleased with her evergreen going his best. "Sportlife was a little bit tense the first day but on the other two days he was really nice. He can get a little bit short in the walk but otherwise they were nice tests. In the freestyle we did a really good test, just a little bit short again in the walk and the half pirouette I did a bit too big, but he was so nice and uphill and the score was 71.6%! I was so happy with that!" Elin admits.
According to Elin, Sportilif, who is named after the popular chewing gum, is a very kind and sweet horse who loves cuddles and attention, and despite his age is still very fit!
"Even though he is 19 he is a very healthy horse and we try to take good care of him. I don't compete very often and sometimes it can go 2-3 months before the next competition. I think this has been good for him because at home I don't put so much pressure on him.  I mostly ride simple work to make him loose in his body," said Elin.
When asked what the weekly routine looked like for this horse, Elin replied that, "my weekly schedule is mostly easy work for three days (one of them from the ground), then one day off to just go out in the field, one day we ride out in the forest, and the last two days we work a little bit more with the collection."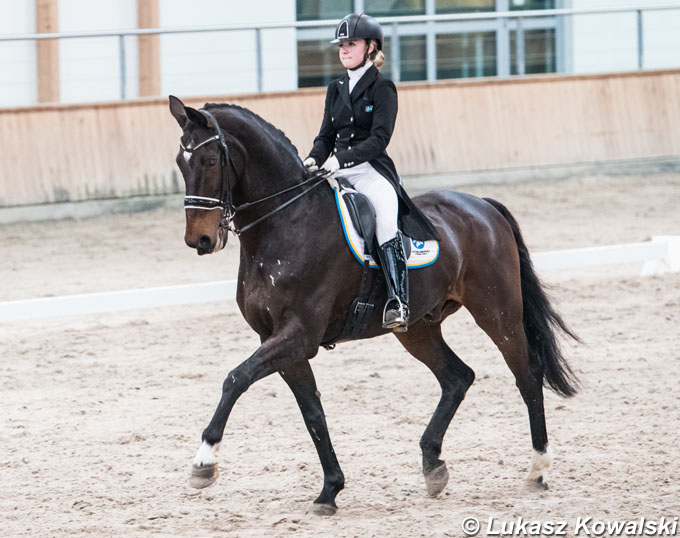 Next year Elin turns 22 so the pair are planning to step up to U25 level. Sportlife is ready for the next challenge.
"We have been starting to teach him passage, piaffe and one times changes over the last two years, and now he seems to be ready to do it in competition," Elin explained.
The pair's goal for 2019 is to ride the Swedish Under 25 Championships and continue her training with Per Duvefelt.
"I have been training with Per for the last 5 years. He has taught me so much," said Gustafsson. "Last year I also trained with Jeanna Högberg a few times and that was also very inspiring."
by Sarah Warne - Photos © Lukasz Kowalski
Related Links
Scores: 2018 CDI Sopot
Photo Report: Milczarek and Cichon Top the Board at 2018 CDI Sopot
Haid-Bondergaard, Isachkina, Esping and Sabitov Win at Windy 2018 CDI-W Sopot
Kozanowski, Skjaerbaek, Esponisa Share the Spoils at 2018 CDI Sopot