Young Stallions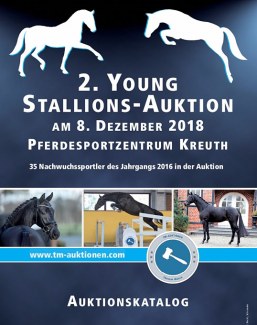 A Danish bred St. Schufro x Hotline colt became the best seller at the 2018 Young Stallions auction held in Kreuth, Germany, on 9 December 2018. 
Thirty-two colts in total came up for auction and 31 of them sold.
A German customer paid 40,000 euro for the St. Schufro x Hotline x future Cup, which is bred by Andreas Gregersen in Denmark and presented at auction by Kathrin Brink. 
The second most expensive colt was a Bon Coeur x Dr. Jackson D x Werther's Wels which fetched 38,000 euro and stays in Germany.
Jan Greve's Dutch warmblood bred colt by Galaxie x Ampere x Belmondo switched owners for 35,000 euro, while Manfred Berreth's colt by Besito x Licotus sold for 32,000 euro.
Matthieu Beckmann's licensed colt by Moses x Fidermark sold for 30,000 euro
The average price for a young colt was 17,935 euro. 
Related Link
Franklin Offspring, Price Highlight of First Young Stallions Auction in Kreuth