KWPN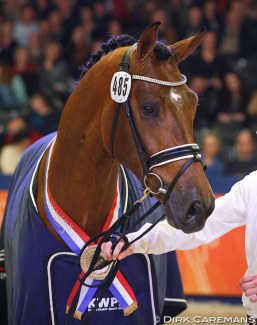 After a lengthy legal procedure in the Dutch court, Norwegian millionaire Kristin Andresen failed to convince the court that KWPN Licensing Champion Handsome O suffered from stringhalt at the time of purchase at the 2015 KWPN Select Sale Auction.
"Seller Jan Brouwer is now considering to file for damages and financial compensation for the seizure of his bank accounts and properties. Moreover, Brouwer wants his name cleared after years of false allegations by Andresen, especially on social media", Brouwer's solicitor Maaike Weda stated.
Despite court hearings with 18 selected witnesses, the Dutch court ruled that Andresen failed to supply evidence that Handsome O was already suffering from stringhalt at the time of his arrival at Katrinelund, home of stallion owner and Andresen's Danish confidante Ib Kirk, in February 2015.
Handsome O (by Johnson) was proclaimed champion at the 2015 KWPN Stallion Licensing and later sold  that day for 300,000 euro at the KWPN Select Sale Auction to Andresen. It was was one of the highest selling prices in the history of the KSS auction.
Almost a week after Handsome O's arrival at Katrinelund, Andresen was informed by Ib Kirk that her purchase showed a deviating step, especially in his right hind leg.
Mediation between Andresen, Brouwer and the KSS was to no avail and in January 2016 Andresen asked legal permission for a witness hearing. In the meantime Andresen published a video on her Facebook account on multiple occasions, in which Handsome O is hand walked. He showing a different way of going. These posts on her personal account included several accusations by Andresen towards the KWPN, KSS and Brouwer.
In July 2018 the Dutch court already ruled that there was no proof that Handsome O was afflicted by stringhalt, but allowed Andresen to find new evidence. According to the published verdict the Dutch judge was not convinced by another four written witness accounts of Handsome O's stringhalt the days after his arrival at Katrinelund.
Seller Jan Brouwer, together with his solicitor Maaike Weda, are now considering to start up a new court case for financial compensation for the monetary damage caused. The height of his claim is yet unknown.
Kristin Andresen has the possibility to appeal against the verdict.
Photo © Dirk Caremans
Related Links
Andresen Sues KWPN for Selling Unhealthy 2015 KWPN Licensing Champion Handsome O
Seebach and Handsome O Withdraw from 2015 Danish Warmblood Stallion Licensing
Handsome O, Champion of the 2015 KWPN Stallion Licensing