Swedish Warmblood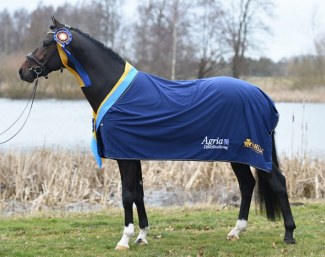 The Dutch warmblood bred and registered Kane became the dressage champion of the 2019 Swedish Warmblood Stallion Licensing and Performance testing which concluded in Flyinge on 3 March 2019.
Seventeen colts in total were approved for Swedish breeding. The best dressage bred colts according to the licensing committee was the KWPN bred Kane.
Bred by Martien and Frans Burgers in The Netherlands, Kane is by Dream Boy out of Toscana (by Krack C). He is owned by Antonia Ax:son Johnson of Lovsta Stuteri. In the Netherlands Kane was rejected in the second phase of the 2019 KWPN Stallion Licensing. Kane was presented by Caroline Darcourt and scored 42 points for conformation, 8.9 for gaits, 4.75 for jumping, and 8.25 for dressage.  Not to be confused, Kane has a licensed namesake in Germany who is by Dark Pleasure x Sandreo. 
For dressage the newly Swedish approved colts are:
Kane (KWPN, by Dream Boy x Krack C) - Conformation 42 / Gaits 8.9 / Jumping 4.75 / Dressage 8.25
Dantes Specter (OLD, by Dante Weltino x Donnerball) - Conformation 42 / Gaits 8.1 / Jumping 5.75 / Dressage 8.25
Liberace for U (SWB, by Dante Weltino x Underworld xx) - Conformation 41.5 / Gaits 8.4 / Jumping 5.0 / Dressage 8.25
Vivaldon (OLD, by Vivaldi x Diamond Hit) - Conformation 43.5 / Gaits 8.5 / Jumping 5.0 / Dressage 8.5
A directly approved stallion is:
Bon Coeur (HANN, by Benetton Dream x Sandro hit) - Conformation 42 points
Quite a big number of 4 and 5 year old stallions were not accepted by the Swedish Warmblood society and failed in the testing: 
Rejected stallions were the Hanoverian Bordeaux (by Bon Coeur x Locksley II), Dancelon WCB (SWB, by Dragon World x Longchamp), the SWB registered Bergsjoholms Arezzo (by Furstenball x Epson Favorite), the SWB bred Dante's Vincero GJ (by Dante Weltino x Chapman), the SWB bred Evolution (by Everdale x Don Primero), the SWB bred Affendi (by Floricello x Sandro Hit), 
The SWB registered Gianluigi Buffon (by Furstenball x Midt West Ibi Light), the Oldenburg bred Donato (by De Niro x Sandro Hit), the KWPN bred Cadence GS (by Rousseau x Vivaldi), the KWPN bred Kylian (by Governor x Flemmingh), and the SWB Camper E (by Ampere x Munchhausen), the SWB bred Faithful Boy (by Floricello x Highlander), the SWB bred Ombre GJ (by Sezuan x Master) did not proceed to phase two.
The Oldenburg licensing champion Benefit (by Belantis x Sir Tender) and Go First (by Governor x Furstenball) were a no show.
Photo © Yvonne Karlsson
Related Links
Demand Wins 2018 Swedish Warmblood Stallion Performance Testing
Ironman H Wins 2017 Swedish Warmblood Stallion Performance Testing
Total Hope, Winner of the 2016 Swedish Stallion Performance Testing
Sankt Erik II, Champion of the 2013 Swedish Warmblood Stallion Performance Testing
Zaladin MI Wins 2012 Swedish Warmblood Stallion Performance Testing
Fifty-Six Stallions Registered for the 2011 Swedish Warmblood Performance Testing
JJ Rayban Wins 2010 Swedish Warmblood Stallion Performance Test
Damino SD Wins 2009 Swedish Warmblood Performance Test
Rosevelt Impresses at 2006 Swedish Stallion Performance Test
Figaro R Wins the 2005 Swedish Warmblood Stallion Testing