Russia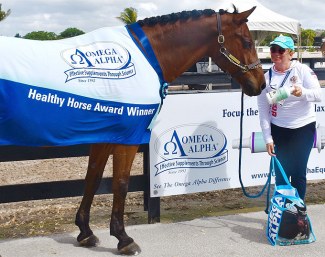 As the 2019 Global Dressage Festival (AGDF) rolled into week seven in sunny Wellington, Florida, Omega Alpha continued to recognize true equine health and athleticism with their Healthy Horse Award. Winning the award, and showing in Adult Amateur Prix St Georges and Intermediare 1, was Diana Zakharova and her 15 year old gelding, Toress.
Toress is a Latvian horse who Zakharova has owned for 8 years. Standing at 16.2, the big bay exudes fitness at every level, which is why he was selected for the award.  Zakharova explains that her training program involves a lot of conditioning, and is the reason Toress is fit not fat.
"It takes the right training," she continues, "He can become fat very quickly. Like people, you have to always manage what he eats and how much he eats", Zakharova also describes Toress as a very happy horse, and she feels he was born with his sweet personality. She also says they have a very close relationship and have bonded over the past 8 years, which is another reason for his happiness.
Omega Alpha shares these same feelings about being dedicated to improving horses' well being and, in turn, horses' performance. Therefore, it is important to them to honor owners and trainers, like Zakharova, who make great health a top priority for their horses.
The Healthy Horse Award includes an assortment of popular Omega Alpha health products, a cooler, and a commemorative ribbon. Zakharova was excited to receive the award and to be recognized by Omega Alpha. "Thank you very much! I'm so happy we got this award," she commented.
Originally from Russia, Zakharova now lives outside of Miami, and has a very active life outside of horses.  With two college degrees, one in economics she received in Russia, and another in accounting and finance she received in Cleveland, Ohio, this busy mother of four continues to develop her professional career. She explained that next month she is getting her real estate license and will leverage her former experience working with a large real estate management company to further her career. 
In the meantime, she is enjoying the season in Wellington, and competing as an adult amateur.  Zakharova explains that in Russia, once a rider reaches Prix St Georges level, they are no longer permitted to compete as an amateur, and must ride against professionals.  So, the ability to compete against her more evenly matched peers in the States, is a welcomed and exciting opportunity for her.
Omega Alpha wishes Zakharova and Toress the best of luck for the remainder of the season and beyond. Known for its all-natural equine health supplements, Omega Alpha is a Canadian-based company that understands the value of horses that exemplify excellent health from the inside out.  In addition to recognizing horses in optimum health, Omega Alpha offers an extensive line of all-natural products for humans and other animals as well. Clients everywhere have experienced the benefits of Omega Alpha to help improve and maintain respiration, digestion, joint health, hormonal balance, immune health, detoxification, muscle rehabilitation, endurance, and performance.
Related Links
Diana Zakharova Sponsors International Sportsmanship Award During 2019 Gold Coast Dressage Association Show Season
Russian Riding Hero Diana Zakharova: Ready to Compete at the "Best Place in the World for Dressage"