Job Offer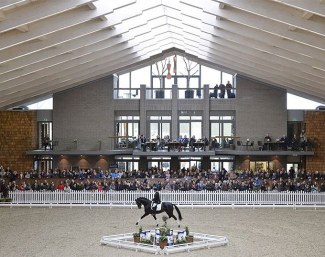 Are you a rider and do you have ambitions of working in the absolute best conditions offered in dressage, together with highly motivated and qualified colleagues? We have high ambitions, both as regards sports achievements, horse welfare and personal development. If you share this passion, please read on and send us your application as soon as possible.
Be part of a professional team of riders
Together with the team and our Breeding Manager you will contribute to the development of Blue Hors' young horses. Your primary role will be the important task of training young horses that will be evaluated along the way for the purpose of being used for sports. Your primary task will consist of the break in the first education of young horses, but together with the other professional riders you will continually evaluate all young horses together with the Breeding Manager.
Alongside the work with the early education of young horses, the right candidate will also be included in the further education of the young horses in close cooperation with the other professional riders.
Your tasks will be as follows, among others:
Breaking in young horses
Age-related training, including development plans for young horses
Participate in the sale of Blue Hors horses
Ensure correct horsemanship for your "own" horses and provide help and guidance regarding other horses
You have the right motivation and attitude
We are Blue Hors, and it is important to us that you have the same passionate approach to the sport, the horses and colleagues like us. We plan long-term and believe that we will achieve the most success by cooperating. We have an open dialogue and support each other in our development. That will make us succeed, both in the short and the long term.
We expect that you
are educated as a rider or similar and have achieved good results so far
understand and respect that we work with animals (horsemanship)
are good at training horses
have good cooperation skills and understand the importance of working as a team
are visionary, patient and quality-minded.
You will become part of Blue Hors
We can offer you a unique working and development environment. You will refer directly to the Mare Stable Manager and become part of a professional team, including internal and external trainers as well as skilled and dedicated colleagues who will help ensuring the optimum framework and optimum conditions.
To this should be added
Fixed salary based on qualifications
Pension scheme
Health insurance
Equipment and clothing matching the specific needs
Application and contact
In case of any questions, please contact:
Alba Maria Fernandez Lopez
Tel: +45 53194781
or Breeding Manager
We will review the applications received and conduct interviews on an ongoing basis. The recruiting process is closed down when we have found the right candidate, so please apply as soon as possible.
Please click on the link below to apply for the job. Remember to attach your CV and application.