Great Britain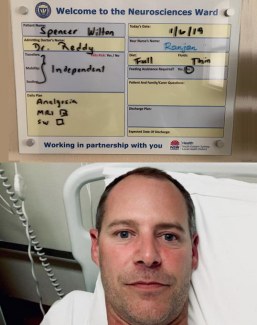 British Olympic and WEG team rider Spencer Wilton has been hospitalized in Sydney, Australia, with a ruptured disc in his lower back. 
Wilton has been struggling with severe back pain since 2018, which he called "the downside of being a professional dressage rider."
In July 2018 he first developed severe back issues and was diagnosed with several prolapsed discs. He made it through the World Equestrian Games with physiotherapy but after Tryon he went in for a second MRI and got an epidural, which takes away most of the pain for a three to four month period in combination with physio. 
Unfortunately his back issues worsened while on a teaching trip in Australia. He has been admitted to the The Prince Charles Hostpital in Sydney with a ruptured disc in his lower back.
"So not quite the end to a fabulous trip teaching in Australia that I was expecting," Wilton explained. "The best case scenario is that they can get me to be able to sit and walk in the next few days with the help of medication, so I can fly home. Worst case scenario is that they will have to operate on my back before I can make the journey back to England."
Wilton added that he's "feeling a little sad and fed up but (...) fingers crossed I'll be home soon."
Photo © Wilton
Related Links
Spencer Wilton Pulls Super Nova from 2019 European Championship British Team Contention
Spencer Wilton Gets Married
Santa Maria, a New Hope for Spencer Wilton