Oldenburg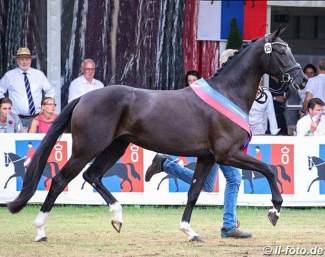 Heideromanze became the champion of the 2019 Oldenburg Elite Mare Show held annually in Rastede during the Oldenburg regional and young horse championships. 
Bred by Vera and Michael Jurgens from Arnsberg, Heideromanze is by For Romance out of Heiderose (by San Amour x De Niro x Donnerhall).  The Jurgens were ecstatic about the victory as this was only their second time in Rastede. Dam Heiderose was a finalist in 2011.
The reserve champion was Rosenfein Q (by Finest out of Rosenquarz (by Floriscount x Rohdiamant x Lauries Crusador xx), bred and owned by Monika Quarz. Dam Rosenquarz was already a Rastede finalist in 2013. 
The third ranked mare was HP Grace (by Grey Flanell x Damon Hill) bred by Lone Boegh Henriksen of HP Horses in Denmark and owned by Stutteri Erica in Denmark. Grand dam Furstin Weihe was a Rastede finalist seven years ago and has Isabell Werth's champion mare Weihegold as great grand dam. Weihegold herself was the 2008 Oldenburg Elite Mare Champion.
Results - 2019 Oldenburg Elite Mare Show - Brilliantring
1. Heideromanze (*15 For Romance I - San Amour) - Breeder and owner: Vera Jürgens
2. Rosenfein Q (*16 Finest - Floriscount) - Breeder and owner: Monika Quarz
3. HP Grace (*16 Grey Flanell - Damon Hill) - Breeder: HP horses, DK - Owner: Stutteri Erica, DK
4. Tremendous (*16 Totilas - Foundation) - Breeder: Gestüt Lewitz - Owner: Schafhof + Grönwoldt
5. Alina Girl (*15 All at once - Stedinger) - Breeder: J.J Blonk - Owner: Birgit Baumann-Kor
6. Ladies Night (*16 Follow Me - San Amour I ) - Breeder: Kerstin de Neui - Owner: Marten Hillmann
7. Aurelia (*15 Grey Flanell - August der Starke) - Breeder and owner: Pernille Heuser-Hladik, AUT
8. Dorena (*15 Barroso - Self made) - Breeder and owner: Hubert Ratermann
9. Vive la Vie (*16 Honoré du Soir/T. - Detroi) - Breeder and owner: Bodo Willms
10. Fantasie W (*15 Fürsten-Look - Sir Donnerhall) - Breeder and owner: Indira Wallner
11. Feel Fine (*16 Follow Me - Sir Donnerhal) - Breeder and owner: Johannes Augustin
12. Fee Royal (*16 Fidertanz - Royaldik) - Breeder: Kerstin Thieben - Owner: ZG Thieben + Osterkamp 
13. Silberlily (*16 Grand Galaxy Win T - De Niro) - Breeder and owner: Caflin AB, SWE
14. Miss Milford (*16 Millennium/T. - Sir Donnerhall) - Breeder and owner: Jens Röbken
15. Zara (*15 Zack - Sandro Hit) - Breeder and owner: Christoph Tantzen
Photo © LL-foto
Related Links
Venecia, Champion of the 2018 Oldenburg Elite Mare Show in Rastede 
Furstin Gesine, Champion of the 2017 Oldenburg Elite Mare Show in Rastede
Candy, Champion of the 2016 Oldenburg Elite Mare Show in Rastede
Fiesta Danza, Champion of the 2015 Oldenburg Elite Mare Show in Rastede
Funf Sterne, Champion of the 2014 Oldenburg Elite Mare Show in Rastede
Calamity Jane, Champion of the 2013 Oldenburg Elite Mare Show in Rastede
Fasine, Champion of the 2012 Oldenburg Elite Mare Show in Rastede
Fire and Ice Proclaimed 2011 Oldenburg Elite Mare Champion in Rastede
Fifty Fifty, Champion of the 2010 Oldenburg Elite Mare Show in Rastede
Carlotta Wins 2009 Oldenburg Elite Mare Show in Rastede
Weihegold Wins 2008 Oldenburg Elite Mare Show in Rastede
Rebelle Wins 2007 Oldenburg Elite Mare Show in Rastede 
Silberaster Wins 2006 Oldenburg Elite Mare Show in Rastede 
Loxana, Dancing Diamond at 2005 Oldenburg Mare Show in Rastede 
Love Story V, Champion of the 2004 Oldenburg Elite Mare Show in Rastede 
Fabina, Rastede Oldenburg Champion 2003 
1999 Oldenburger Champion Mare Lady Madonna sold to the USA 
Donna Doria, the 2000 Oldenburg Champion Mare at Radstede