2019 North American Youth Riders Championships
Callie Jones concluded her Young Riders' career with a second individual gold medal at the 2019 North American Youth Championships in North Salem, USA, on Sunday 4 August. 
Jones (21, Henderson, Ky.,) is a USDF Region 2 rider and a member of the Discover Dressage™ USEF/USDF Emerging Athlete Program that traveled to Europe this spring for two CDIO-YR competition. The pair won Individual gold and Freestyle bronze at the 2018 NAYC and Young Rider team silver with Region 2 at the 2017 NAYC. The pair made their NAYC debut in 2016 in the Junior division.
Callie and Don Philippo, her 11-year-old Hanoverian gelding, also took the gold medal in the individual test In the Freestyle, they scored 74.710 percent for the gold, marking a highly successful career at the North American Youth Championships.
"It's truly just a bittersweet moment because I'm aging out and that's the last time I'm going to do that freestyle," said Jones, who choreographed and worked on the music with Cynthia Thomas. "I'm just really happy and so proud of my horse because he gave me his all this week."
While they won the bronze medal in the Freestyle in 2018, Jones chose not to adjust her choreography, instead focusing on improving each movement.
"I debated changing it, but I ended up not," she explained. "I think because I learn so much from doing this freestyle each time. I just always strive to do better. The choreography is not the most difficult, but I know if I can nail each move, then I'm going to be rewarded for it. I always have so much fun riding it and love the music."
The silver medal went to Kayla Kadlubek (19, Fairfax Station, Va., also a member of the Discover Dressage™ USEF/USDF Emerging Athlete Program) on Perfect Step, her 18-year-old Hanoverian gelding. They received a score of 73.505 percent. The pair also won the bronze medal in the Individual Championship this week and helped USDF Region 1 to the team gold medal.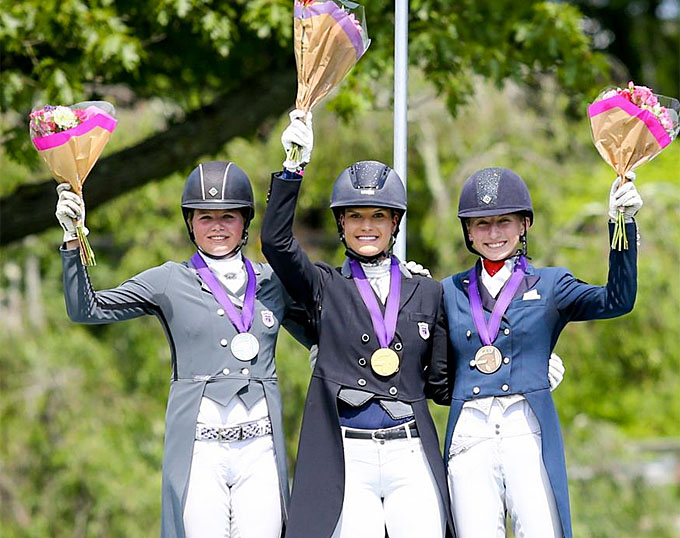 "I was extremely happy with my test today," said Kadlubek, who designed the choreography and picked the music herself. "There were still a couple bobbles in there, but he was so much more energetic today. I went in there with the mindset of, 'I'm just going to have fun and go for it.' This freestyle means so much to me. I made it myself and it's from 'The Greatest Showman.' The lyrics mean so much to me. I love riding it. He was just on fire today. I couldn't be happier with him."
Adding a bronze along with her two previous silver medals to her medal haul this week, Vanessa Creech-Terauds (19, Caistor Centre, Ontario) rode Fleur de Lis, Louise Leatherdale's 10-year-old mare to the podium with a 73.490 percent.
"Up until this year, I've actually taken a different horse to the championships every year," said Creech-Terauds, who was competing at her fifth NAYC. "This is my first time taking the same horse. This championship is always one of the best weeks of the year, so I just really look forward to it. This year, having taken Fleur for the second time, this time in the Young Riders, I was extremely motivated. I'm so proud and happy to say that she exceeded my expectations."
Photos © Andrea Evans - Meg McGuire
Related Links
Scores: 2019 North American Youth Riders Championships
Region 1 Wins Gold by a Whisker at 2019 North American Young Riders Championships
Region 4 Wins Team Gold at 2019 North American Junior Riders Championships
Klepper Elevates to Individual Test Gold at 2019 North American Junior Riders Championships
Callie Jones Wins Individual Test Gold at 2019 North American Young Riders Championships