2019 North American Youth Riders Championships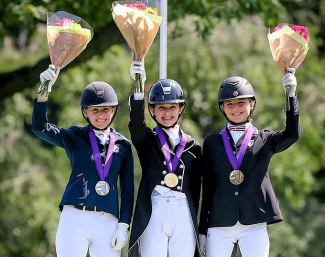 Klepper collected her second gold medal by winning the Junior Rider Freestyle at the 2019 North American Youth Championships in North Salem, USA, on Sunday 4 August. She concluded her NAYC debut with three medals: team silver and individual test and kur gold.  
Klepper and Happy Texas Moonlight rose to the top of the podium with a 73.250 percent, her best Freestyle score to date. Jori Dupell (USDF Region 6) and Fiderprinz earned silver with a score of 71.625 percent, and Dennesy Rogers (USDF Region 7) and Chanel claimed bronze with a 71.250 percent.
Klepper (14, McCutchenville, Ohio) performed a borrowed Freestyle from fellow barn mate Patty Keene, who coached her on the test leading up to the NAYC. This was the first time Klepper performed this Freestyle, and she made it count with the 12-year-old Oldenburg gelding owned by Shannon Klepper.
"I'm really proud of my horse and how well he was with me today. He saved me a couple of times, especially on the changes," said Klepper, who is the first junior NAYC competitor to win double individual gold since Jenna Upchurch (USDF Region 4) did so in at the 2016 NAYC. "I'm happy with my test today and thankful to Patty and everyone who has helped me with this Freestyle to polish and nail it down."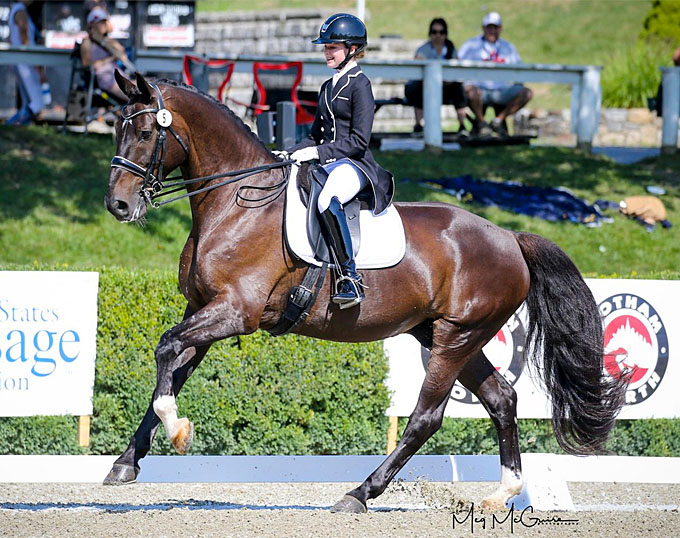 Dupell (17, Wilsonville, Ore.) and Fiderprinz had only been working together for six months prior to the 2018 NAYC. Although they gained experience, they left without a medal. The situation was much different this year as her growth with the 10-year-old Oldenburg gelding contributed to their podium advancement.
"It's awesome to finally stand [on the podium]. Last year, we had some bobbles, and today we did, too, but he covered me a lot," said Dupell. "It was the first time performing this Freestyle, and it really suits him. We tried to keep it simple and him happy and supple throughout the work."
Rogers (16, Thousand Oaks, Calif.) and the 14-year-old Danish Warmblood mare owned by Dorriah Rogers will head back west with two medals in their first NAYC appearance, having earned the silver medal in Friday's Individual Test.
Both Dupell and Klepper will look to add to their achievements when they compete at the 2019 U.S. Dressage Festival of Champions later this month.
Photos © Meg McGuire
Related Links
Scores: 2019 North American Youth Riders Championships
Region 1 Wins Gold by a Whisker at 2019 North American Young Riders Championships
Region 4 Wins Team Gold at 2019 North American Junior Riders Championships
Klepper Elevates to Individual Test Gold at 2019 North American Junior Riders Championships
Callie Jones Wins Individual Test Gold at 2019 North American Young Riders Championships