Pony for Sale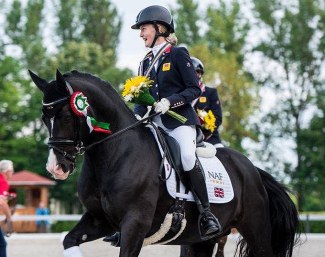 Name: Valhallas Zorro
Breed: Welsh Cob (purebred, registered with the Welsh Pony & Cob Society)
Year of birth: 2009
Sire: Valhallas Lord Matrafal
Sire of dam: Fjordglimt Sir Johnson
Gender: Stallion (fully licensed with the WPCS)
Height: 148 cm
Asking price: 120,000£ GBP / 135,000 € or lease
Medal winning FEI dressage pony for sale or lease: Valhallas Zorro
The 10-year-old Welsh Cob stallion "Valhallas Zorro" is now for sale, as his present co-owner and rider Holly Kerslake turns 16 in December 2019.
Valhallas Zorro has been competing very successfully in FEI dressage at international level since 2015 when he started his career with the Danish rider Anne-Mette Lyager. In the beginning of 2016 he was sold to the Kerslake family in Devon, and since then he has been ridden by Holly Kerslake.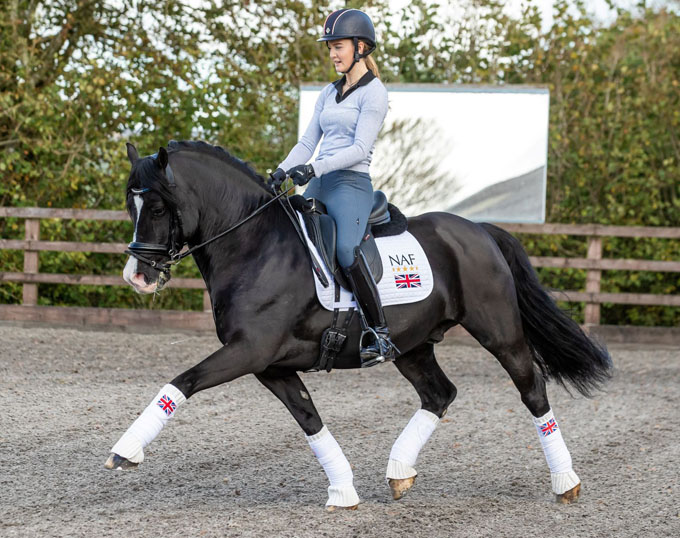 Valhallas Zorro was bred in Denmark by Karen B. Olsen and Carl Trock of the Valhalla Stud and they have kept a share of the stallion, who is also a successful sire of champion stock.
Valhallas Zorro has a list of results that is far too long to mention, but here are some of the best:
• Gold medal as Danish National Pony Dressage Team Champions (2014)
• Winner of DSP National Dressage Pony Finals (Denmark, 2014 and 2015) scoring record high 78,9 %.
• International debut in the CDI in Saumur (France, 2015)
• Wild card for the National Dressage Championships (UK, 2016); secured two Top 10 placings
• CDIP at Sint Truiden (Belgium, 2017): 4th in the team test with + 70%, 5th in the Individual with 69,9% and 6th in the freestyle (Kür) with 71,5%
• CDIP in Roosendaal (Holland, 2017): 6th with 69,9% in the individual
• European Pony Dressage Championships (Hungary, 2017): Bronze medals with the GB team!
• Somerford Premier League (UK, 2018): 2nd with 73,63% in the team test and 1st in the individual with 72,28%
• Pony Club Championships (UK, 2018): 1st in the Elite Dressage with 73%, 1st in the Open Ridden and Open Individual champions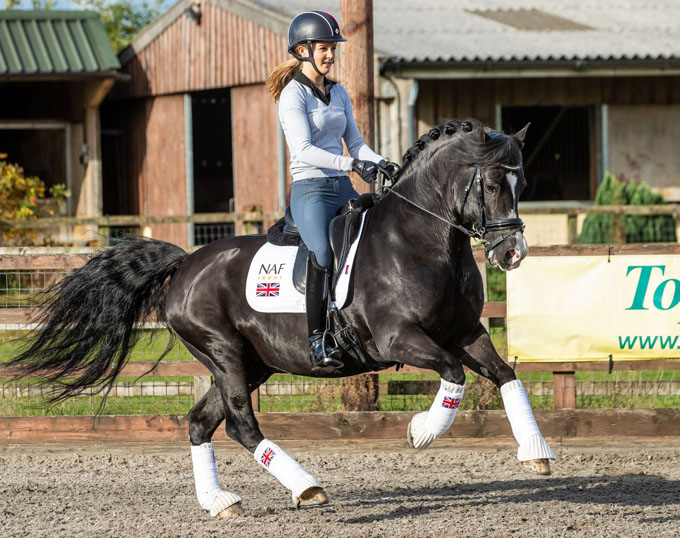 • GB Team Test riding (UK, 2019): 74,1% in the team test • Keysoe CDI (UK, 2019): 3rd in the team test, 1st in the individual with 71,2% and winner of the freestyle with 71,6%
• Saumur CDIP (France, 2019): Team bronze in the Nations Cup and individual placings on all 3 days topped off by an International PB in the Kür with 73,3%
• Selectors Observation Trial (Somerford Premier League, UK 2019): 1st with 71,5% • European Pony Dressage Championships (Strzegom, Poland, 2019): 4th place with Team GB and scoring 70% in the team test
Valhallas Zorro is a beautiful, black purebred Welsh Cob stallion that oozes presence, quality and caliber. As a youngster he won numerous championships in the in-hand rings as he is very correct, well built and a powerful mover that likes to attract attention and 'show off'. Having said that he is a very kind, cooperative horse in all ways, and in spite of the fact that he is an entire stallion he is very easy to work with in all situations. His temperament and will to please his rider is extraordinary - which can also be seen from the fact that he constantly scores above 70 % in top company and probably is one of the most consistent ponies on the circuit.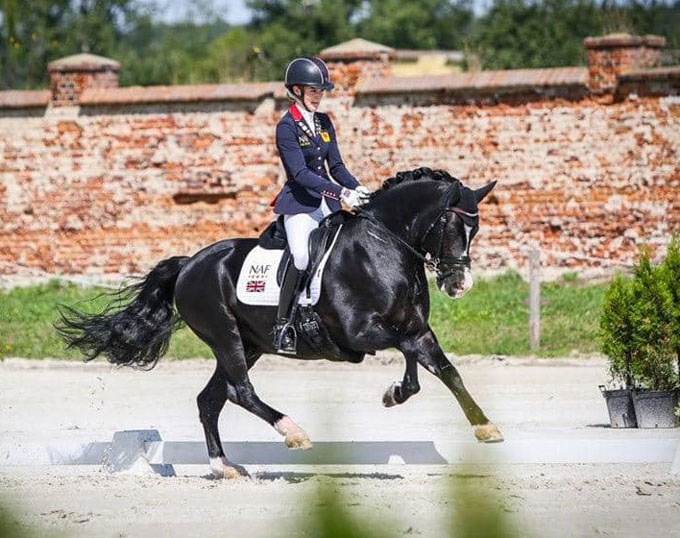 We are looking for a new 5-star-home for Zorro, with a highly talented and ambitious rider and a team that can secure that Zorro continues his career at international top level.
And if we can't find that home, we might consider offering him for lease for at least 2-3 seasons.
Video on request
If you have questions, and want to see videos and/or are interested in a test ride, please contact
Contact info: