Grooms' Corner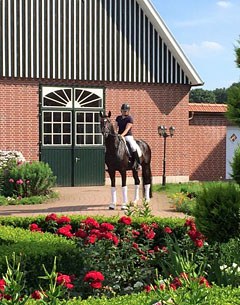 German Grand Prix rider Sabine Rueben is looking for an experienced rider to strengthen the growing team in her yard for the training and competing of high quality young dressage horses and particularly stallions between the ages of 3 and 6.
Rueben is based in the Cloppenburg area in Germany and runs an equestrian centre with training barn in close partnership with the prestigious Gestut Sprehe.
The candidate has to be ambitious and positive and will get the opportunity to train and compete high quality horses from 3 to 6-year olds. He has to have a passion and love for young dressage horse rider and will get the opportunity to compete.
The rider needs to be brave, willing and experienced to sit on and develop inexperienced youngsters up the M-level and be able to handle stallions. 
The job is only for a rider who wants to perform and has clear ambitions to be in the show ring, as riding at competitions will be required! The focus lies on preparing and competing the young horses and stallions, which are owned by Gestut Sprehe. The horses will mainly be aged 3 and 4.
 S/he needs to have experience up to S-level as well as in training youngsters.
The job offered is a full-time position completely focused on riding 8 to 10 horses per day. No breaking in nor barn maintnance duties are required.
S/he has to be a hard working, flexible individual with a passion for horses. S/he will be able to work in a highly professional environment with coaching from Grand Prix riders.
Rueben offers a barn with a nice, friendly atmosphere, a young dynamic team and high quality horses.
Candidates can send their resume to