Horse for Sale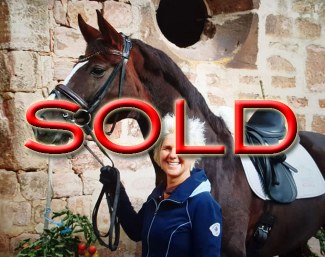 Name: Fleurance 8
Breed: Hanoverian
Date of Birth: 15 June 2009
Sire: Fürst Romancier
Dam Sire: Sir Donnerhall I
Gender: Mare
Height: 170 cm
Fleurance, an extra-class dressage horse, is a winner at S-level with 8 first places between 2018-2020. She is on the way to Grand Prix level
The mare has been professionally trained by Uta Gräf for the last 5 years – and turned out to be promising and convincing from the beginning: the pretty and high quality horse persuaded already as a youngster with her 3 top gaits; she won all "Dressage Horse M-level" tests she participated in.
Beyond her quality, Fleurence is a lovely liver chestnut, always straightforward, easy going and trustful toward humans. As a proof to her amazing rideability, the mare has been introduced to regular tests up to M-level under her owner Katrin Huber, who is one-handed due to a handicap.
Beyond the official tests, the mare is also being presented by Uta Gräf and Katrin Huber in seminars and events, at times with a large audience (e.g. Equitana Essen, Mannheim, or Horse & Hunt, Hannover). Despite an impressively large audience she showed herself on best behaviour. In addition, she loves a relaxed ride in the forest, and her rider benefits here as well from her unshaken, bombproof behaviour.
owner is looking for a new home for "Fleur" which should be horse friendly, preferably with pasture/turnout. Ideal for an ambitious amateur dressage rider who wants to go all the way, or for junior-young rider level sport with perspective for Under 25.