MD Talks
Russian-Palestinian Grand Prix rider Diana al Shaer continues to expand the content and reach of MD Horse Agency, the PR and digital marketing company she launched in September 2020 together with Maria Mironova. 
Via Instagram MD Horse agency shares inspiring stories of successful equestrians across the globe. MD's videos, interviews, and productions, which combine quality content with unparalleled visual aesthetics, are steeped in 20 years of experience in dressage, fashion, marketing and movie production.
MD Talks: Noor on Flying with Horses 300 Times
The latest international MD Talks video features Dutch Noor, a professional groom that has flown over 300 flights with horses.  Alongside studying Business Administration and Informatics in The Netherlands, she also trains horses, follows the programme to become a judge, and has met George Clooney along the way.  MD Talks reveals Noor's inspiring life journey.
Taking Horse Personalities "Out of the Stable"
"With MD Talks we want to highlight equestrian personalities we are all used to seeing in the stable or on horses, but who have a much more layered life," Diana al Shaer told Eurodressage. "We want to take them "out of the stable" and show their human side."
One of the first personalities that was featured in MD Talks was dressage trainer Jean Bemelmans, who led the Spanish team to its greatest successes in the international arena, so far. Bemelmans is now coaching the French team towards the 2024 Paris Olympic Games. 
Last month MD Talks focused on a Russian equestrian audience and featured, for instance, Russian dressage riders Ekaterina Maslova and the Dutch based Alexandra Maksakova.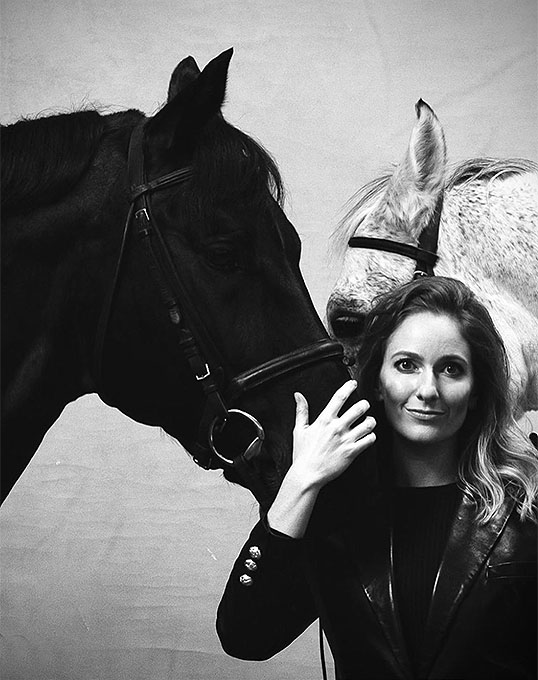 "We are planning to produce more videos for an international equestrian audience," Diana explained. "We combine personal life stories with educational information. We want to put the spotlight on some interesting equestrian jobs, covering topics such as flying grooms, nutrition, equitation, physiotherapy, etc."
MD Horse Agency, Your Visual Partner
While MD Horse Agency expands its portfolio with inspiring video reels from the horse world across disciplines, the company also branches out on a more commercial level.
"We started getting requests for commercial videos and our team is ready to produce commercial videos and backstages for any type of company," Diana explained. "We are an equestrian consultancy company and aim to connect equestrians from different parts of the world as well as help riders or companies promote their business or events."
For more content, visit www.instagram.com/md_horseagency
Related Link
MD Horse Agency, Diana Al Shaer's Platform to Inspire and Connect Horse Lovers World Wide